There is a darling little guesthouse, called Maison Rika, in the heart of Amsterdam's scenic canal district.
How it all started: While on a photo shoot in Menorca, Spain, Ulrika Lundgren had a local craftsman make her a bag to use as a prop on the set. It was a leather tote decorated with Lundgren's now trademark stars. Friends clamored for more, and the Rika brand was born.
Swedish fashion designer Ulrika Lundgren is the creative force behind the luxury label, Rika. Since 2005, she has been wowing savvy shoppers across the globe with her edgy star-spangled bags and clothing line. High profile fans include Madonna, Scarlett Johannsson, and Helena Christensen, among others. I'm a fan, too, and I would love to own one of her bags; but the price is a bit more than I can afford to spend . . . over $700 for the tote I want.
Lundgren opened Maison Rika in November 2011. It's a two-room inn and gallery centrally located in Amsterdam's Leidseplein neighborhood, not far from Lundgren's Rika Boutique. The guesthouse boasts a clean black-and-white color scheme with exposed beams, crisp white walls, and stained wooden floors. The window trim is painted black to match the flooring. It has a quirky style, but is beautifully put together to make her guests feel right at home.
The ground floor, referred to as the Gallery Boutique, contains carefully selected items for sale and is used as the setting for pop-up fashion, music, and art events. There's a nice mix of contemporary and vintage furniture. A French settee is upholstered in black fabric to coordinate with the black-and-white scheme. The floor lamp was designed by Paul Lelieveld. Framed butterflies hang on the back wall next to the stairway.
Second-Floor Guestroom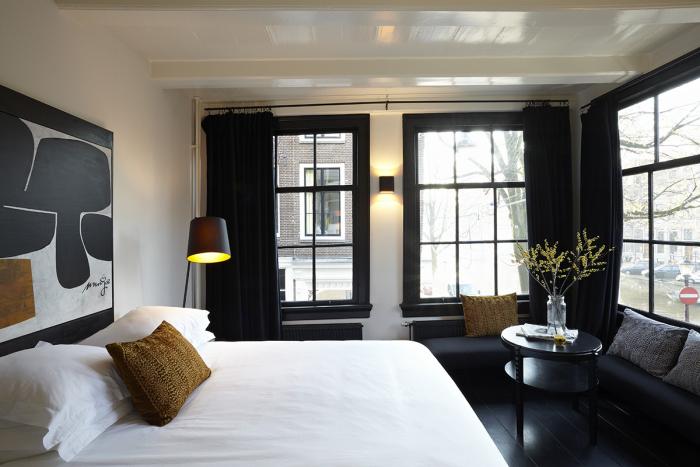 The second-floor guestroom décor is eclectic and comfortable with just enough edge for a trendy feel. Black velvet drapes frame windows that offer excellent views of the Canal Herengracht.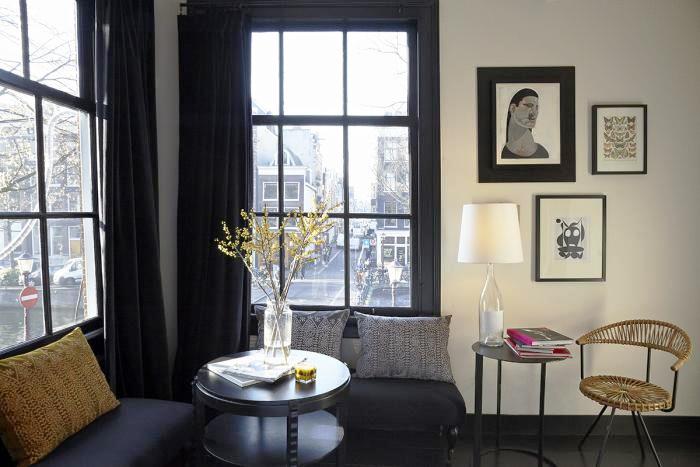 A cozy corner has two small benches for guests to sit and enjoy the view. The bottle lamp was designed by Maison Martin Margiela.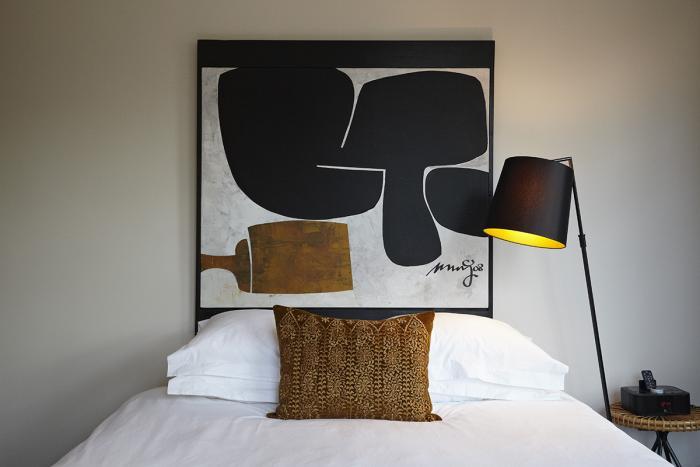 Décor is minimal. The wall art is by San Ming. The floor lamp, designed by Paul Lelieveld, is the same as the one used in the ground-floor Gallery Boutique.
in her own words
"It was fun to decorate the rooms. I wanted guests to feel like they were sleeping over at a friend's house." —Ulrika Lundgren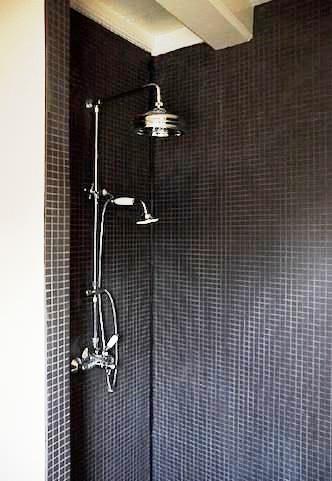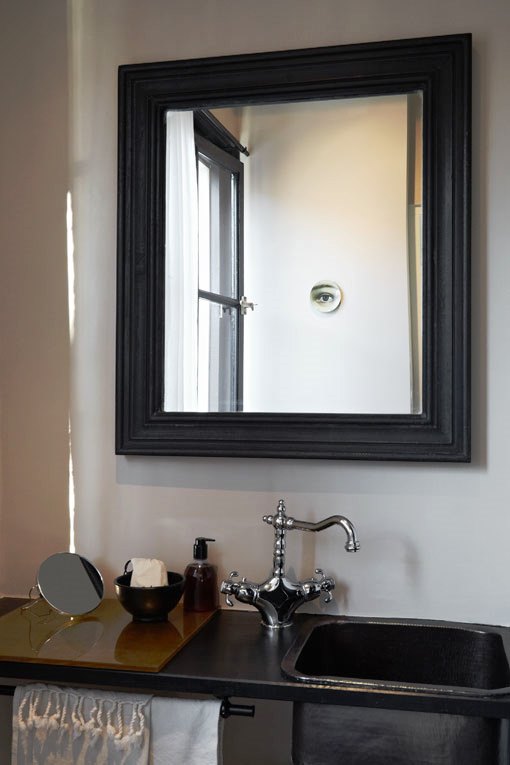 In the ensuite bath, the black-and-white color scheme continues. A window provides plenty of natural light. The shower is tiled and roomy. Opposite the sink, an "eye" wall hanging adds a touch of whimsy.
Top-Floor Guestroom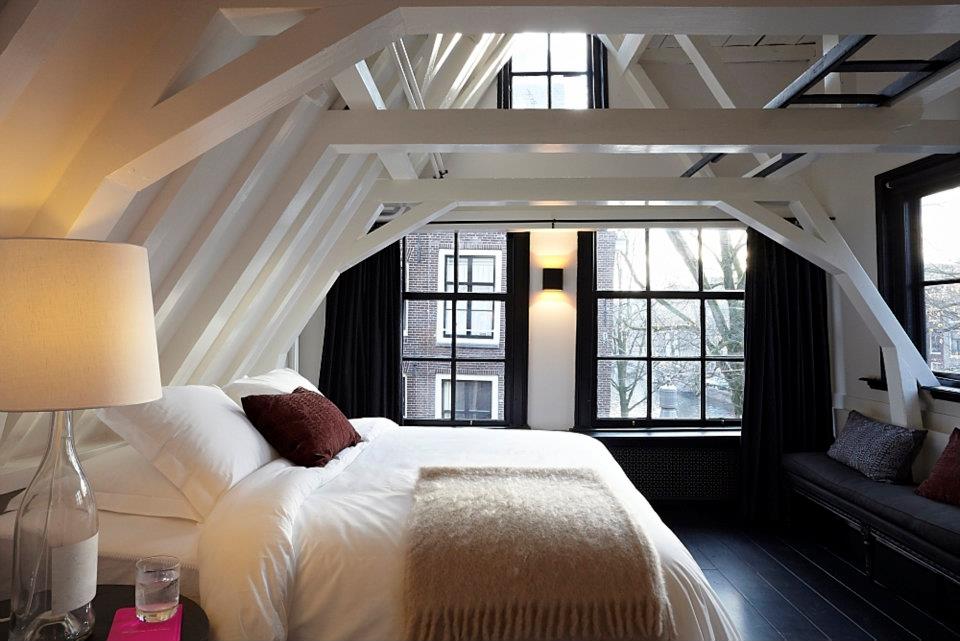 The largest guestroom on the top floor has a loft feel with exposed ceiling beams painted in white. Windows are also framed in black velvet and look out onto the Canal Herengracht.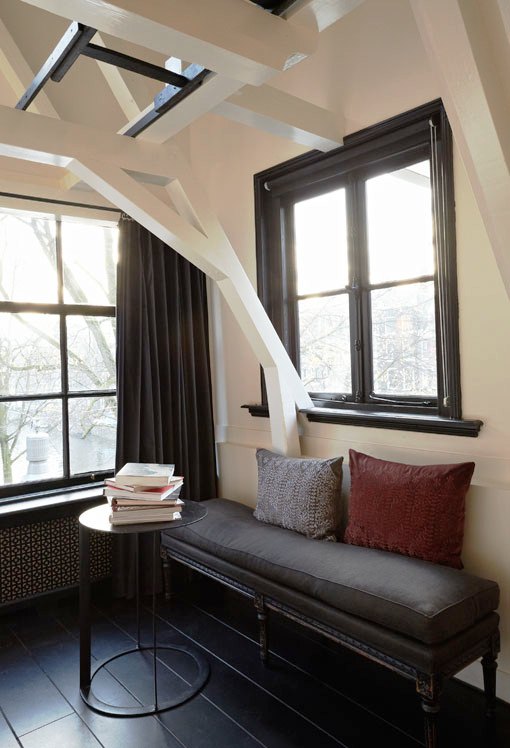 [above] A simple, upholstered bench in the largest guestroom offers a quiet place to sit and read or view the canal below.
[right] Maison Martin Margiela's bottle lamp casts a soft glow on the exposed white ceiling beams.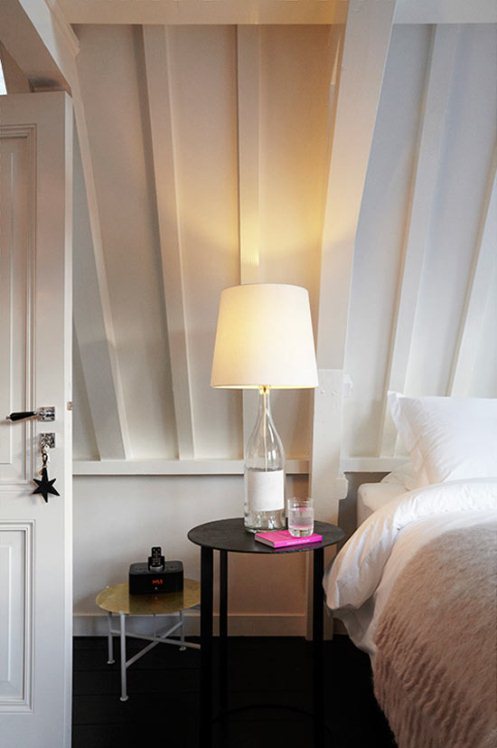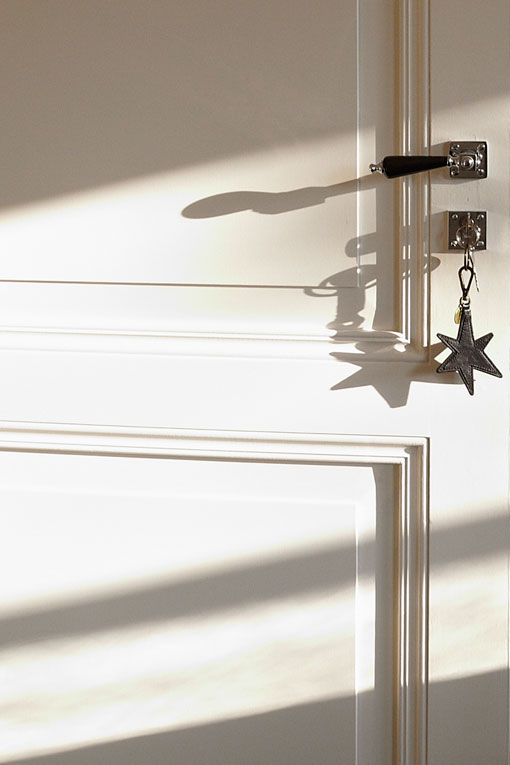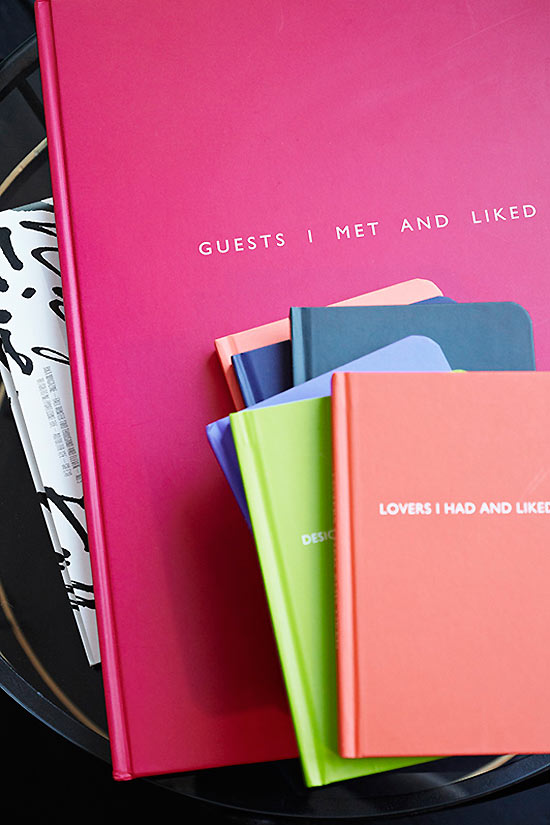 Rika's signature star hangs from a guestroom key. I don't know what you have to do to qualify as one of Lundgren's Guests I Met and Liked, but I would love to see my name listed there. Other chic notebooks, in various bright colors, are available for sale in the Gallery Boutique.
Lundgren encourages local artists to display their work and hosts pop-up fashion, music, and art events. Besides featuring Rika apparel in the Gallery Boutique, other items that complement the Rika brand are also offered for sale, such as, Astier de Villate scented candles, Maison Michel headbands, and Summerbird organic chocolates, to name a few.
Maison Rika
Oude Spiegelstraat 12
1016 BM Amsterdam
Netherlands
email: maison@rikaint.com
phone: +1-855-250-9011

For more information, visit Maison Rika.