It was high in the rugged mountains of Bighorn National Forest that we came as close to heaven on earth as we could ever be.
The only very rugged part of the route is in crossing the Big Horn mountain, which is about 30 miles wide.
—William Henry Ashley
Traveling east from Cody there are three routes that will take you to the Bighorns: Cody to Lovell (US-14A) . . . Cody to Shell (US-14) . . . or Cody to Ten Sleep (US-16). From there, each route provides a scenic drive up the mountains to high alpine meadows and the verdant woodland of Bighorn National Forest.
TRAVEL TIP: US-14A (Medicine Wheel Passage) is considered one of Wyoming's most dangerous roads. It rises sharply from the Bighorn Basin near Lovell and travels through high alpine meadows to Burgess Junction, where it intersects with the Bighorn Scenic Byway to Ranchester. There are hairpin turns, blind corners, and only a guardrail separating you from the cliffs below. US-14A is not recommended for those pulling trailers or driving large motorhomes or long-haul trucks. Grades exceed 10%. Read about why they call it "Oh My God Hill" at Cheap RV Living. US-14 (Bighorn Scenic Byway) is supposedly better. But we were in an SUV on US-14 when the weather and conditions suddenly turned sour, and the drive down the mountain (east of Burgess Junction to Ranchester) became treacherous. I would not do it again. They say US-16 (Cloud Peak Skyway) at the southern end of the Bighorn National Forest is best, but the drive down to Buffalo is still steep and hard on big-rig brakes. Whichever route you choose, do your homework . . . and be sure to check weather, road, and other conditions before you go.
. . . Road Trip thru Wyoming . . .
May 15-16-17, 2011
Day Three: Cody to Bighorn and Beyond
Tuesday, May 17, 2011 . . . We headed east out of Cody towards Greybull and Shell where we picked up the Bighorn Scenic Byway (US-14) into Bighorn National Forest. From there we continued east through Bighorn to Ranchester before turning onto I-90 past Sheridan towards Beulah and the Wyoming/South Dakota state line.

Travel time (Cody to the WY/SD state line, not including stops for gas, food, and photos) – 332 miles, 5 hours 30 minutes
Cody to Shell
The drive from Cody on US-14 to Greybull took about an hour. We didn't make any stops and continued on about 16 miles to Shell where the Bighorn Scenic Byway begins.
We missed these on the way to Shell, but you might want to see them
The tiny town of Shell is located at the base of the Bighorn Mountains just 10 miles from the Bighorn National Forest entrance. The town took its name from Shell Creek which, in turn, is named for the abundance of shell fossils found in the sedimentary walls of Shell Creek Canyon. The town has few amenities, but there are plenty of natural wonders to explore in the surrounding area.
Two great places to stay
Looking for an authentic dude ranch experience
? Try
The Hideout Lodge and Guest Ranch
in Shell. It's an
all-inclusive
, upscale riding and horsemanship ranch limited to about
25 guests
for a 6-night stay. Testimonials describe it as friendly with an accommodating staff, excellent food, and fabulous wranglers who guide you through spectacular scenery. Sounds good to me!
Download their brochure
for more information.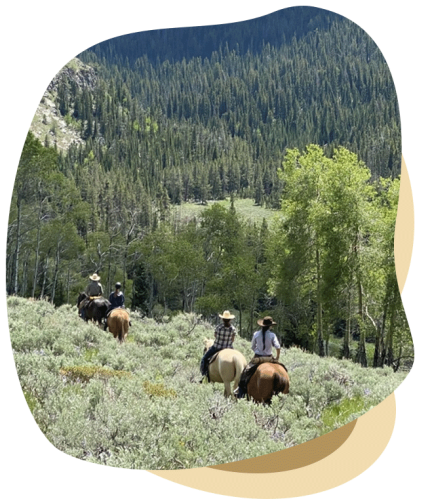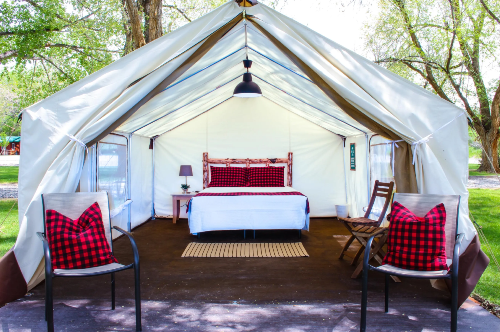 If you prefer camping, why not take it up a notch and go glamping, Bighorn style?
Shell Campground
, is a full-service, boutique campground with cabins and glamping tents for 2 as well as great spots for campers and RVs. Amenities include: an on-site shower house, coin laundry, convenience store, and café.
Bighorn Scenic Byway
The Bighorn Scenic Byway is 58-miles of paved highway that follows US-14 and takes you through the Bighorn Mountains and Bighorn National Forest. Starting at the east end of Shell, it runs alongside Shell Creek and winds it's way through the foothills past some stunning scenery before reaching the mountains.
Red rock formations in the foothills are part of the same Chugwater Formation we saw
on our drive to Yellowstone
. Primarily made of siltstone and shale, the formation is red because of oxidation of iron minerals within the rock.
Nearby is an erosional remnant of that Chugwater Formation called Chimney Rock. The striking formation stands out prominently to the south rising above the valley. It was once known simply as The Red Pillar.
There are signs posted about road closures, and the Bighorn Scenic Byway can close due to heavy snows during winter or early spring.
It was a good thing that summer and fall travel are not generally affected by inclement weather. Dark clouds on the day we traveled were shrouding the Bighorn mountains and threatening rain or snow or, as it turned out, both.
Shell Creek Canyon
Shell Creek Canyon
is 10.6 miles (16 minutes) from the town of Shell and an easy, scenic drive.
The canyon's deep limestone and granite cliffs tower above the Bighorn Scenic Byway on one side. Shell Creek runs through the canyon and follows the road on its other side.
It took millions of years for Shell Creek to carve out the canyon. The creek is approximately 50 miles long. It starts high in the mountains at an elevation of over 11,000 feet then drops to below 3,800 feet as it descends and exits through the canyon at Bighorn's western edge. It then flows through the town of Shell to Greybull where it empties into the Bighorn River.
Pay attention. Unlike the national parks, there is no guard shack at the entrance to Bighorn National Forest. A simple sign on the side of the road tells you you're entering it. From there, the byway follows Shell Creek and hugs the canyon cliffs closely as it zigzags up and through the mountains. Take care on the switchbacks and watch for falling rocks.
Take a hike or two . . . or three

Bighorn National Forest

has dozens of great trails for hiking, backpacking, and camping. There are too many for me to list individually. Some are easy. Others are more strenuous with elevations reaching 7,614 feet. Most trails are well marked and have spectacular scenic views of the mountains, meadows, lakes, and wildlife.

USDA Forest Service – Hiking AllTrails – Best Trails in Bighorn National Forest
There are plenty of places to park for the trails on the Bighorn Scenic Byway and numerous pullouts along the road so you can easily stop to take photos, have lunch, hike, fish, camp, take a walk, or just sit back and enjoy the stunning scenery.
We stopped the first chance we could at a pullout that was surrounded by mountains in every direction.
The Bighorn Mountains
are craggy and imposing.
They are made of sedimentary rock formed million years ago. The rock was deposited layer-upon-layer over older coarse-grained, red granite that can be seen in the higher part of the range.
A series of switchbacks through Shell Creek Canyon scale the steep western slope of the Bighorn Mountains.
In the photo below, guardrails for the switchbacks we would be taking on our way up to Granite Pass are just visible at the top of the smaller mountain.
Sagebrush and juniper cover the landscape. The mountains look harsh and unforgiving, like alpine tundra. You can understand why early explorers and settlers found the Bighorns formidable and seemingly impossible to cross.
Standing in the midst of such massive mountain ridges, you feel small and insignificant. It's something you have to experience first hand to fully appreciate.
Because some things can't be explained, only experienced.
—Travel Wyoming
Shell Falls
Shell Falls is located in Shell Creek Canyon 11 miles east of the town of Shell. The falls plunge 120 feet over a granite cliff into the gorge below. There are nature trails, informational signs, and walkways around the falls for easy viewing.
The Shell Falls Interpretive Site is open 9:30AM to 5:00PM, seven days a week, Memorial Day through mid-September . . . but always check for changes before you go.
Don't miss this
Copmans Tomb is a cliff face that rises several thousand feet from the floor of Shell Creek Canyon. It's so big and intimidating, the closest comparison would be the Grand Canyon. You can view it from the Shell Falls Interpretive Site or hike to the summit to experience it up close and personal.
Traveling on, we stopped at another pullout to take photos of Shell Creek.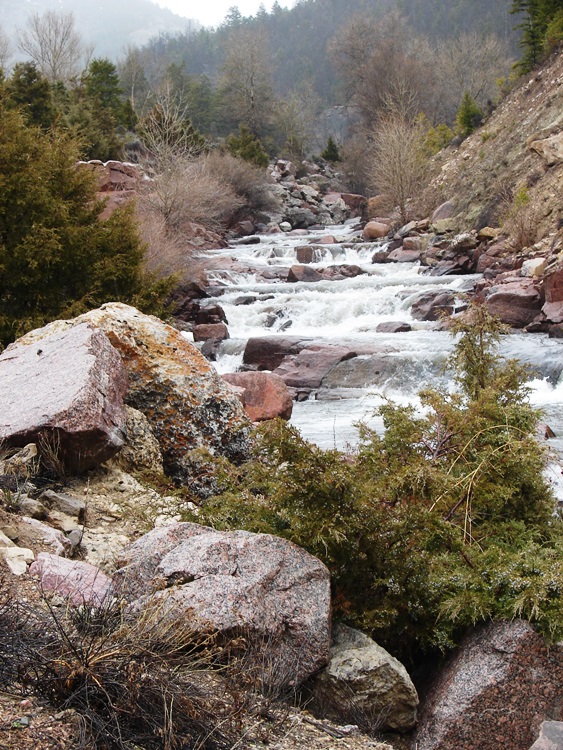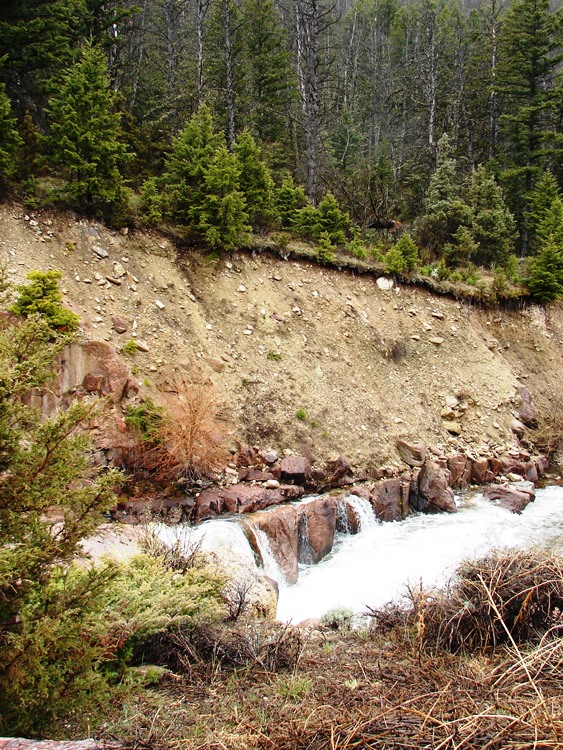 Fishing at Shell Creek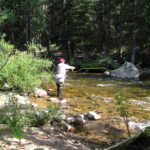 Upper Shell Creek is a highly productive mountain stream that flows off the west side of the Bighorn Mountain range. The stream flows swiftly through the narrow confines of Shell Creek Canyon. Large boulders provide abundant pocket and plunge pools that offer countless opportunities for casting a fly, spinner, or worm. The deep, dark waters yield rainbow trout with almost iridescent purple and red skin coloration, arguably some of the most colorful to be found. Pines grow right to the edge of the stream along with various willow species, creating a challenge to find the best place to cast a line into that perfect pool. Flow can be swift and angling can be challenging until the winter snows are almost fully drained off the mountain toward the end of July in most years. —Wyoming Game and Fish Department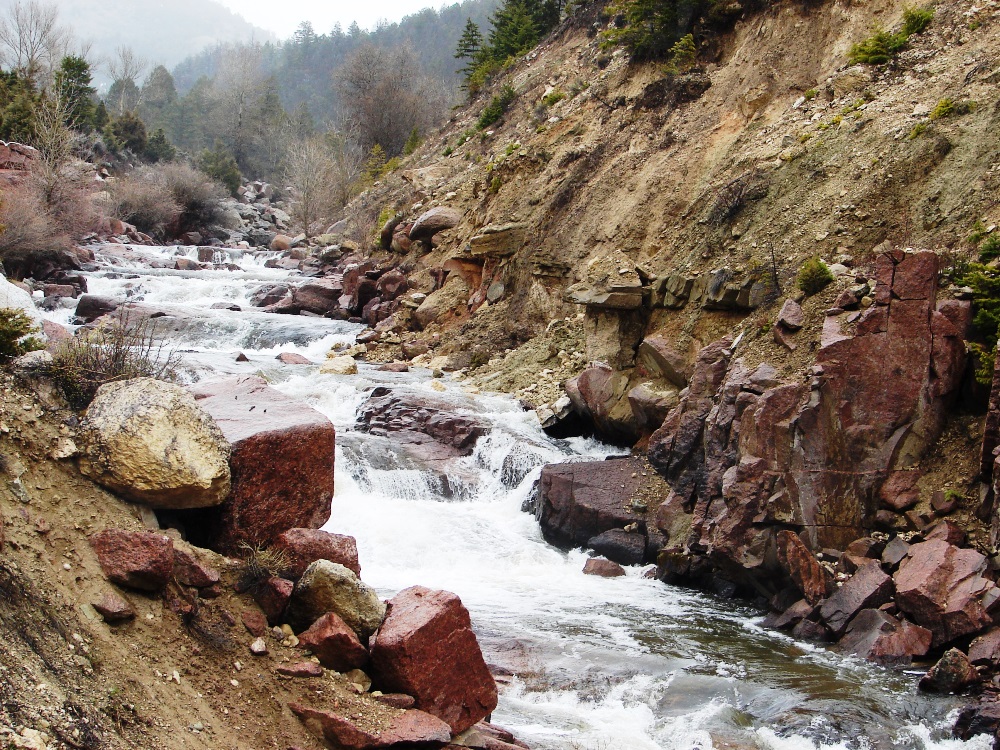 There is nothing more eloquent in nature than a mountain stream.
—John Muir
Don't miss this
At a pullout for the Tornado Observation Site you can view damage done by a freak tornado when it swept through Bighorn Mountains in 1959. The twister ripped up timber and took out a huge swath of trees on the mountain which is still visible to this day.
Bighorn National Forest
Climbing higher, the road gave way to the Bighorn National Forest. Created as a federal reserve in 1897, it is one of the oldest government-protected forest lands in the United States. The vast forest stretches along the spine of the Bighorn Mountains, extending from Wyoming into Montana, and covers over a million acres.
Bighorn National Forest is home to many species of wildlife—mule and white-tail deer, elk, moose, and pronghorn antelope—and birds like wild turkeys, bald and golden eagles, grouse, pheasants, and several species of falcon. There are also black bears, mountain lions, and coyotes in the mountains and forest.
Many people spot wildlife grazing in the lush meadows or near mountain streams.
We didn't see anything because . . . bam, just like that, it started to snow. Hard.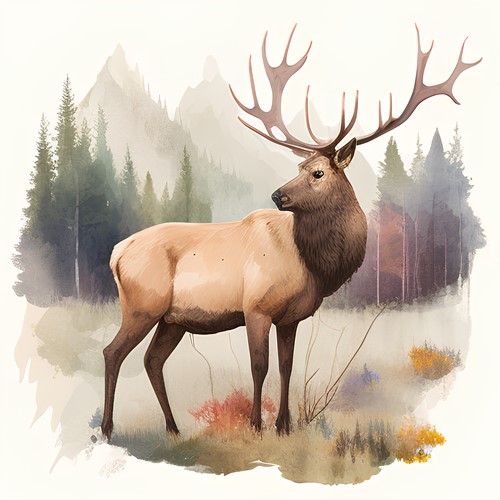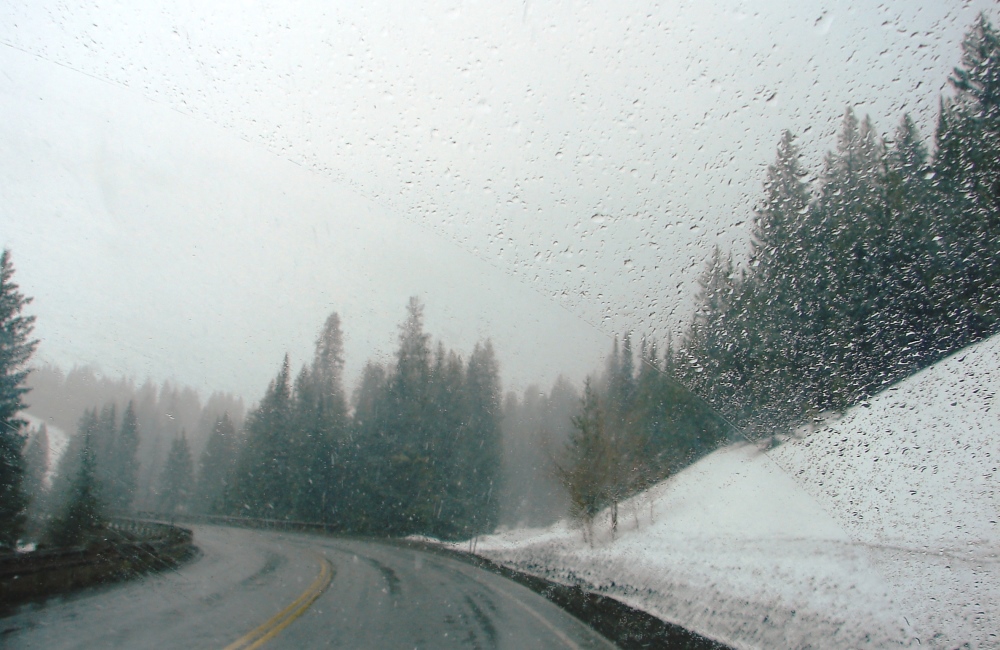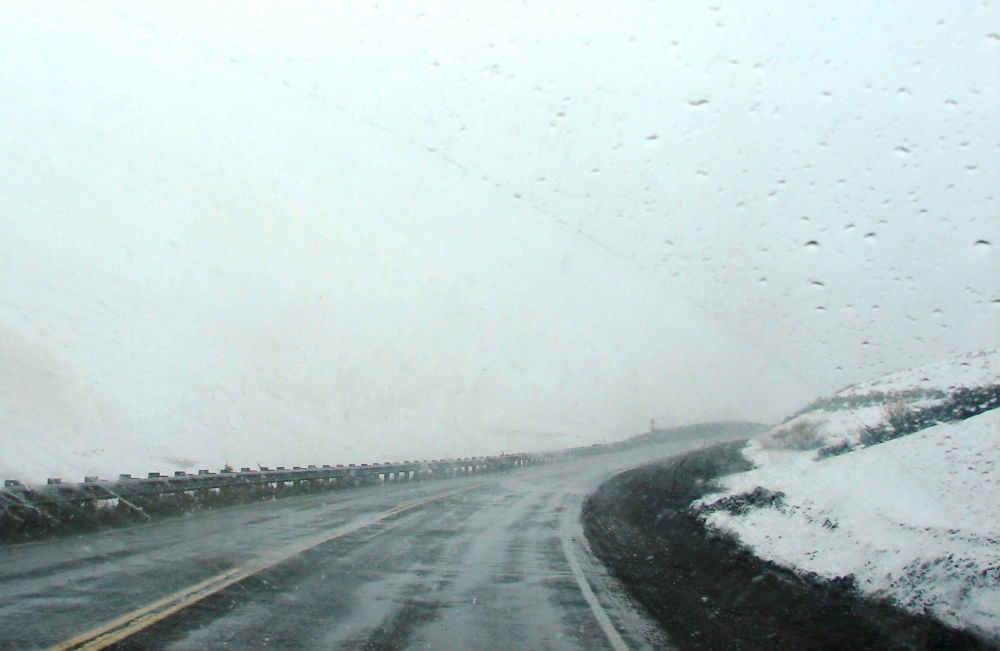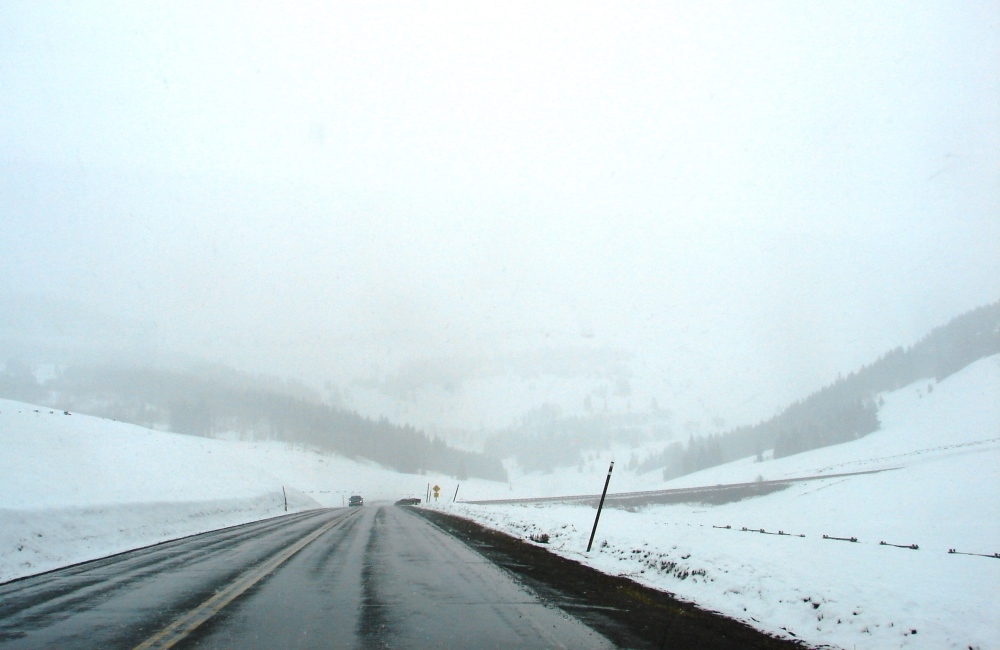 And that was the end of that. Our seeing the sights in Bighorn was over.
The highway leveled out as we drove through Granite Pass to Burgess Junction. At an elevation of 9,033 feet, the pass is the highest point on US-14.
Campers might want to know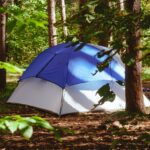 There are a wide array of cabin rentals and sites for camping nestled in the Bighorn National Forest. Many are available on a first-come, first-served basis. Some can be reserved. For descriptions, reviews, and more information:
Best Camping in and Near Bighorn National Forest
The Best Camping in Bighorn National Forest
At Burgess Junction, the byway meets up with US-14A/Medicine Wheel Passage. You have a choice—you can head west on 14A or continue on to Dayton and Ranchester. We continued on.
We missed it, but it's worth seeing
The Burgess Junction Visitor Center has restrooms, self-guided trails, exhibits, a theater, maps, information, book sales, interpretive talks, and beautiful scenic vistas. is open seasonally from approximately Memorial Day–Labor Day. Behind the building you can view Twin Buttes, two unusual rounded mounds that appear to be mirror images of each other.
Heaven on Earth
We were anxious to get out of the mountains. But when we came upon a scene straight out of Currier and Ives, even though it was snowing cats-and-dogs, we just had to stop to take it in.
Nature is the ultimate inspiration, and oftentimes its beauty can take your breath away.
High in the mountains with the snow falling steadily, the forest looked stunning. All around, there was nothing but silence. Not a sound at all except for the soft babble of the brook. No people. No cars. Nothing. Just the two of us alone together in the world with the gently falling snow. It was pure heaven.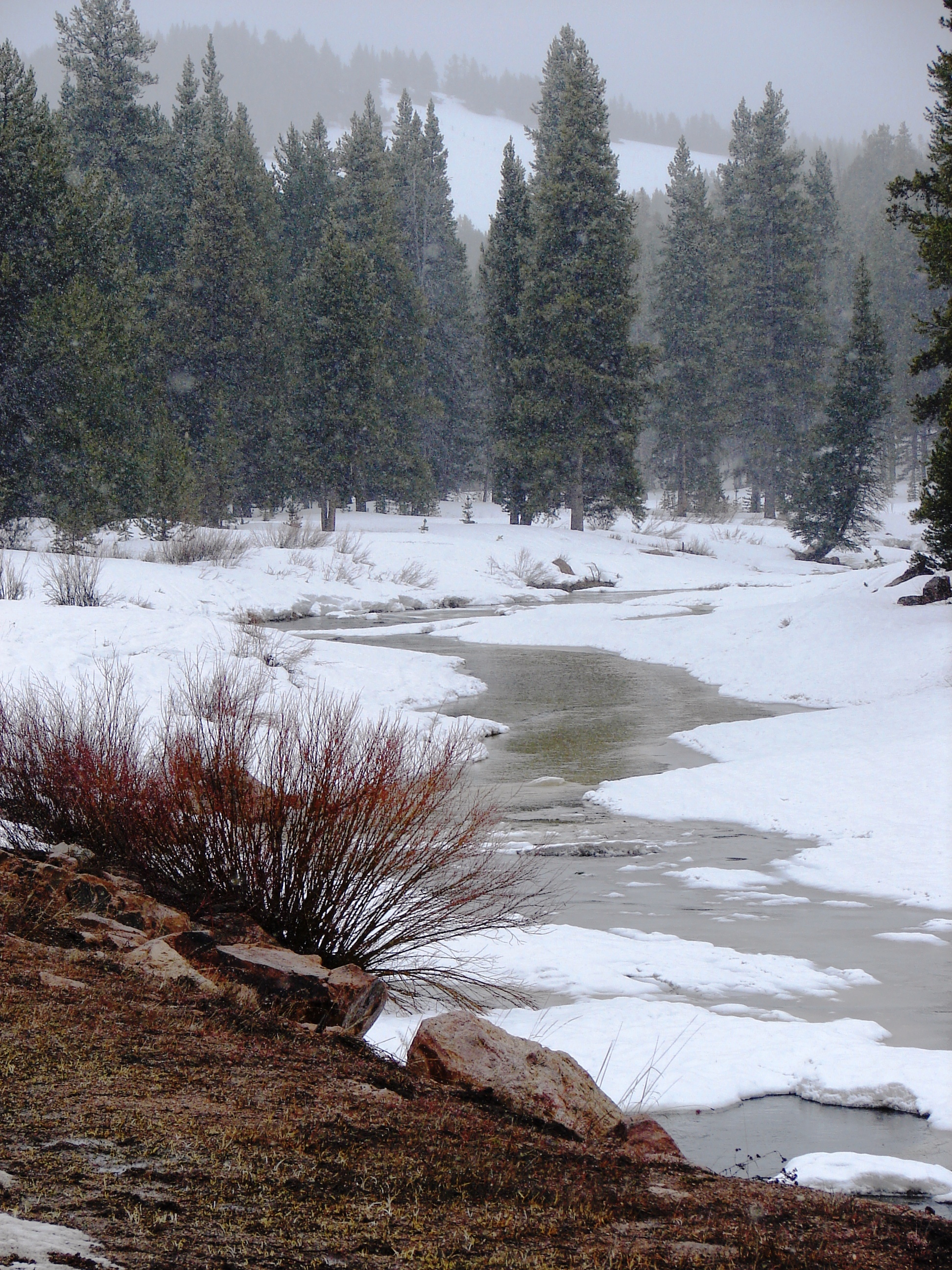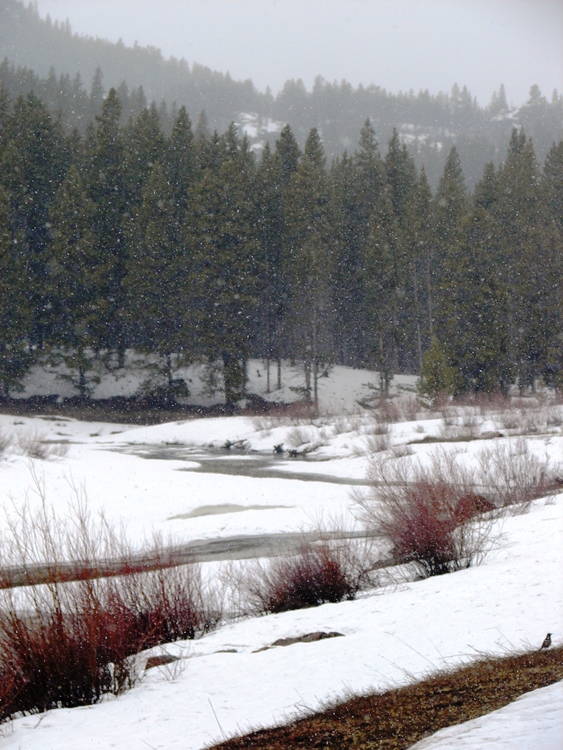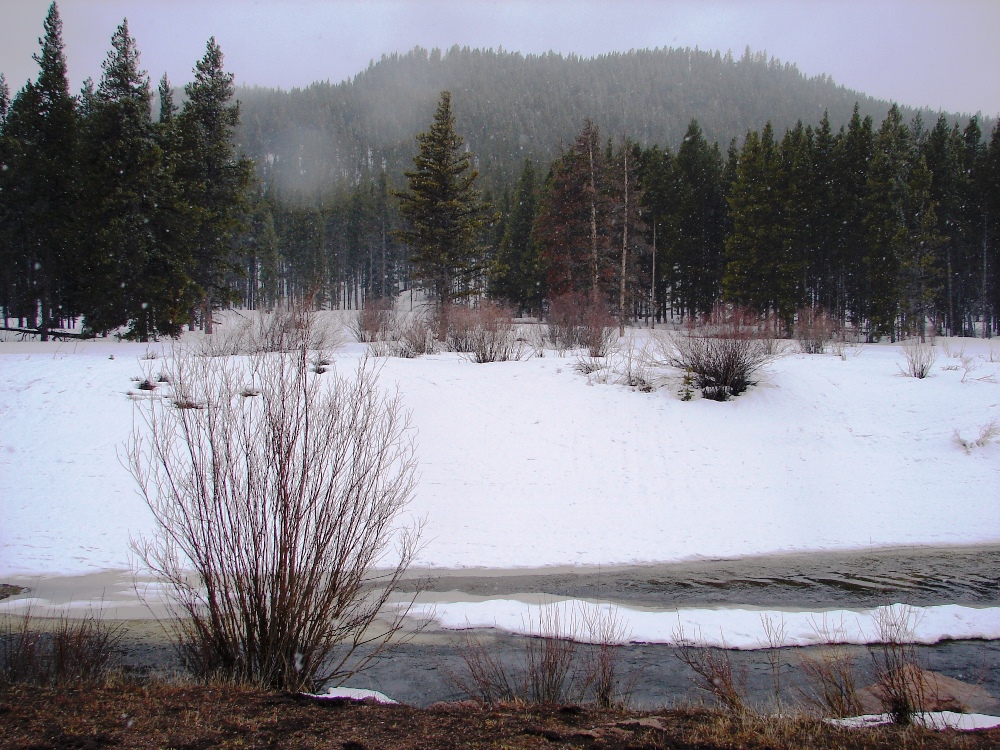 It was another one of those you-had-to-be-there moments.
A wretched goodbye
The route continued eastwardly past Sibley Lake on a steady, not-so-steep descent to the lower elevations. However . . .
It snowed the rest of the way through Bighorn and seemed to get worse on the descent from the mountain. Visibility was bad. You could scarcely see the road as it zigzagged its way down. The hairpin turns were deadly if you weren't paying attention. One minute you're heading around a curve, the next straight for the cliff, and flying off the edge into the valley below seemed like a real possibility. It was frightening.
Because of the weather, we had missed quite a few things we had hoped to see in Bighorn.
I was especially sorry we had missed seeing the Medicine Wheel. It's located on the west end of Bighorn, and we would have had to take US-14A to get to it. I imagine, like most ancient archeological sites, there's not much to see. But I had read a lot about it, and reviews talked about the peace that comes over you when you stand there on the mountain. I love when that happens. Read more
Beyond Bighorn
The rest of the way through Wyoming was uneventful . . . though seeing majestic Sundance Mountain, standing tall and proud, was a fitting postscript for our Wyoming trip.
Unless noted otherwise, all photos were taken by Patricia Petro and Tom Schmidt. Copyright © 2011 Patricia Petro/Tom Schmidt. All rights reserved.
Some photos were found online. Links to the source sites have been provided. I encourage you to visit these sites to read what others have to say.
Watercolor of antelope © virtosmedia, 123RF Free Images