After three glorious days of driving through
wild, wondrous Wyoming
, my lasting impression is that of a vast, open, unspoiled land with abundant wildlife, stunning views, and a definite western flavor.
Wyoming . . . It's a strange land in my eyes—a region dominated by the dry paint of light yellows and soft reds swathed beneath a vast and sprawling sky. Add to that the occasional splash of neonic-blue reservoir water tucked in the middle of this massive canvas of aridity and you've got a land quite unique.
—Janson Jones
. . . Road Trip thru Wyoming . . .
May 15-16-17, 2011
Day One: On the Road in Wyoming / Cheyenne to Cody
Sunday, May 15, 2011 . . . Coming from Colorado, we cut up through the center of Wyoming, starting at Cheyenne, in the southeast corner, on our way to Cody, near Yellowstone National Park, in the far northwest. Cheyenne is the capital and most populated city in Wyoming. We drove right past it on I-25 north to Casper, the second largest city; then turned onto US 20 west towards Shoshoni, up to Thermopolis, where we cut over onto Highway 120 towards Meeteetse, and finally up to Cody where we planned to stay for a couple of days while we visited Yellowstone.

Travel time (not including stops for gas, food, and photos): 392 miles, 6 hours 20 minutes.
Tom drove. I enjoyed the scenery.
Driving north on I-25 from Cheyenne to Casper, you're traveling through the Great Plains. There's not much to see unless you count plateaus, railroad tracks, grassland, and sagebrush. Cheyenne itself is somewhat touristy with advertised attractions, and there were points of interest all along our route; but our goal was to get to Cody before dark, so stopping along the way to see any sights was not an option.
Past Cheyenne, just south of Chugwater, a silhouette of a horse and rider stands high atop a bluff overlooking the highway. From afar, it looks like the real thing; but as you pass, you can see it's actually a flat metal sculpture. "It's my dad's silhouette, on his horse, Rustler, on our ranch," says Hannah. "There used to be a dog up there, but it was stolen."
The Laramie Mountain Range, a series of granite monadnocks on the eastern edge of the Rockies, follows I-25 all the way to Casper. They are so large, I thought they were the Rockies. In the photo above, you can see how tall they are compared to the two highway billboards in the grass below them or the cars on the road ahead of us.
For miles it's nothing but bluffs, buttes, mesas . . . and a lot of sagebrush. They say the light color in the land formations is ancient volcanic ash spewed from volcanoes in Nevada and delivered to Wyoming by strong westerly winds millions of years ago. Though our kids might argue differently, Tom and I weren't around then, so we can't attest to anything ancient.
Near Glendo, the mountain had been sliced in half to make way for the road. It's an awesome cut, exposing millions of years of sedimentary rock layers. Sliced mountains are a common sight on U.S. highways.
We missed it, but it's worth seeing
One of several state recreation areas along the North Platte River, Glendo State Park, surrounds Glendo Reservoir, a popular paradise for water sports, fishing, and camping.
The landscape of central Wyoming, with its sage-covered plains, is typically western. Ephemeral wetlands dot the dry, sandy landscape. The water is runoff from the mountains that eventually sinks into the ground or evaporates as the weather warms. It can be an arid, unforgiving land. These are the same Great Plains the American pioneers traveled through, following the North Platte River, on their way west. One can only imagine the hardships they suffered.
We missed it, but it's worth seeing
You can experience an authentic wagon train adventure along the same stretch of Oregon Trail the pioneers traveled, in the mid-1800s, on their way west.
We missed it, but it's worth seeing
Hell's Half Acre, 40 miles west of Casper in Powder River, is 320 acres of alien landscape—deep ravines, caves, eerie rock formations, and hard-packed eroded earth—sitting right in the middle of the flat, grassy plains. The ravines were once used by Native Americans during hunts to drive buffalo to their deaths.
The town of Shoshoni lies at the intersection of US 20 and 26. It was named for the Shoshone tribe of Native Americans, most of whom live on the nearby Wind River Indian Reservation. It's a small town, just 3.3 square miles. Blink—or fall asleep, as I did—and you miss it.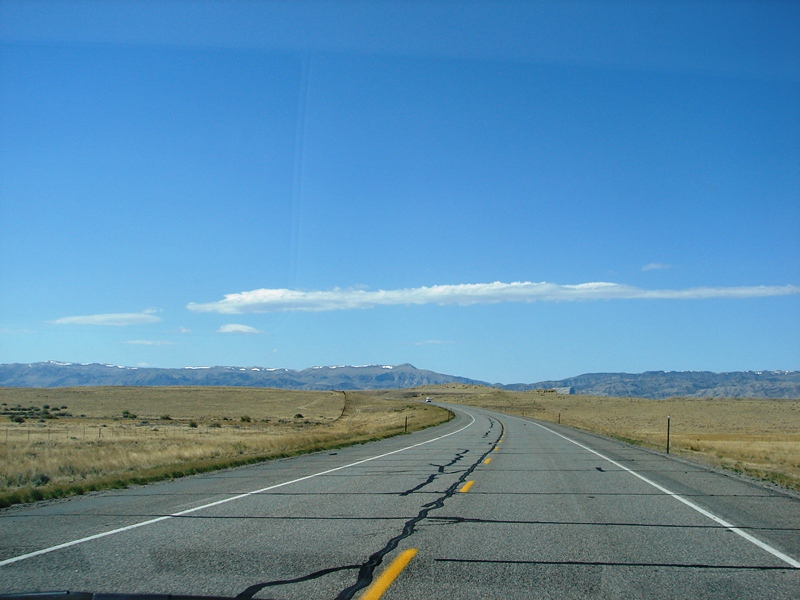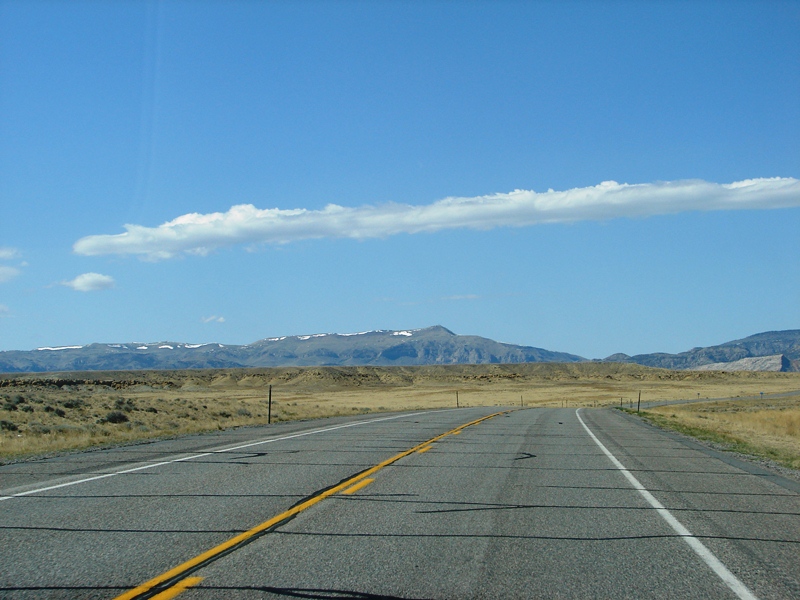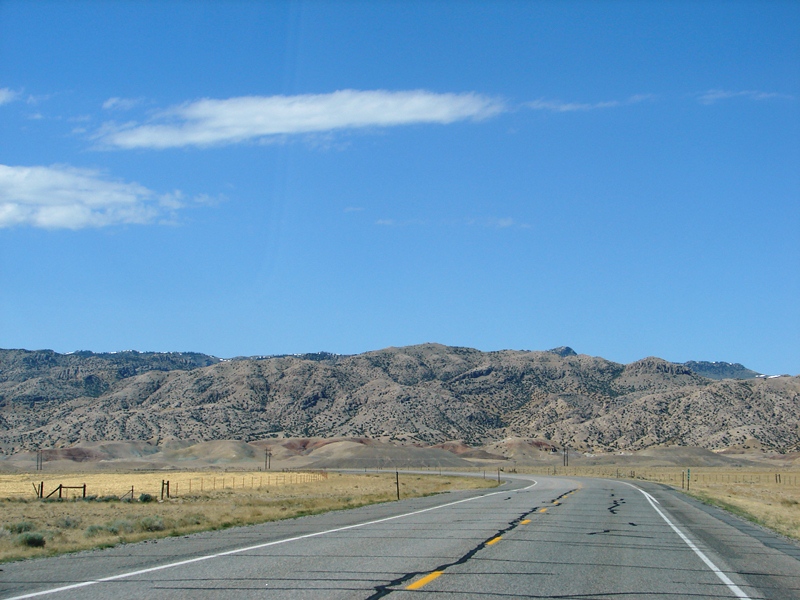 Road . . . road . . . and more road. When each mile looks the same, falling asleep is not such a hard thing to do. The road is long, monotonous, and desolate. We met up with one lone car traveling east . . . then he passed us and was gone. After that nothing for miles. No cars. No houses. No lights. No signs. No cell service. It crossed our minds more than once that, if we happened to break down or had an accident, it might be a while before anyone would find us.
Wind River Canyon
The route through Wind River Canyon was designated as a Wyoming Scenic Byway in 2005. The byway begins in the town of Shoshoni, follows US 20 North through Wind River Canyon and the Wind River Indian Reservation, and ends just north of the City of Thermopolis. The canyon itself is beautiful, immense, rugged. Without stopping, total drive time through it was about 40 glorious minutes.
Flowing north through Wind River Canyon is the Wind River. The canyon was carved out by the river and is, at times, as much as 2,500 feet deep. In the past, Native American used the canyon as both a short cut and escape route.
The mountains are craggy and lifeless except for spots of green shrubbery and trees growing somehow in the rock. In 1995, 43 bighorn sheep were "transplanted" along the canyon rim from Dubois, WY, but I didn't see any of the woolly cliff dwellers as we drove through.
Winding our way out of the canyon, the terrain changed suddenly, significantly.
We missed it, but it's worth seeing
At the north end of the canyon is the Wedding of the Waters. While the name implies that two rivers are joined, at this point the Wind River gets a name change and becomes the Big Horn River.
The city of Thermopolis is just north of the canyon. From the Greek, meaning "hot city," it is home to numerous natural hot springs and claims to have the world's largest mineral hot spring. The city sits surrounded by mountains—the Owl Creek Mountains to the southwest, Bridger to the southeast, Big Horn on the east, and southern Absaroka range on the west. Roundtop Mountain, on the northern edge of town, is about 6,000 feet and looks like a volcano.
Hot Springs State Park

We missed it, but it's worth seeing

Located at the northeast edge of Thermopolis, Hot Springs State Park, was built around the world's largest single mineral hot spring. The spring issues 3.6 million gallons of mineral water every day at a constant, scorching temperature of 135 degrees Fahrenheit. A perpetual fountain forms a seething caldron from which some of the water is channeled into pools to be cooled and then piped into bathhouses for public use. From another stream, water flows over an enchanting Rainbow Terrace, then spills down into the Big Horn River. Paved walkways along the riverfront take you over centuries of sediment. A swinging bridge spans the river. A drive through the buffalo pasture is a must.

The area was once a part of Wind River Indian Reservation. In 1897, Chief Washakie of the eastern band of Wyoming Shoshone sold the hot springs to the United States with the caveat that a portion always be free for public use. Open year 'round, two warm-water plunges and the State Bath House now provide indoor and outdoor swimming pools for soothing and healing.
The drive from Thermopolis to Cody is just 89 . . . rather uneventful . . . miles.
On our way, we passed through Meeteetse, an old western town located just 32 miles south of Cody on Highway WY-120 along the banks of the Greybull River. Meeteetse is super small, with a total area of 0.8 square miles, all land. I didn't blink, but I missed it anyway.
Cody, a symbol of the old American West, was founded by Colonel William F. "Buffalo Bill" Cody in the mid-1890s. It's the eastern gateway to Yellowstone National Park and "Rodeo Capital of the World."
We had planned to visit the Buffalo Bill Center of the West (formerly the Buffalo Bill Historical Center) that first day, but changed our minds when we got to Cody—it was simply too late in the afternoon, and there wouldn't be enough time to see everything before the Center closed for the day.
Buffalo Bill Center of the West

We missed it, but it's worth seeing

The

Buffalo Bill Center of the West

is a must-see. Known as the "Smithsonian of the West," it has five world-class museums and a research library under one roof that take up an area equal in size to eight football fields. All together they offer one of the most complete pictures of the history, geography, geology, people, cultures, and spirit of the American West. If you don't see anything else in Cody, see this . . . we missed it . . . our bad. Here's what's inside:

1. Buffalo Bill Museum showcases William "Buffalo Bill" Cody whose Wild West Show in the 1870s made him the world's most famous man.

2. Cody Firearms Museum has the most comprehensive collection of American firearms in the world.

3. Plains Indian Museum tells the story of the Plains people, their cultures, traditions, values, and histories.

4. Whitney Gallery of Western Art has a few thousand historic and contemporary western pieces, including "Last of the Buffalo" by Albert Bierstadt and Edgar S. Paxson's giant "Custer's Last Stand."

5. Draper Museum of Natural History focuses on the Yellowstone region, its wildlife, and the relationship between man and the environment. One exhibit lets you experience first-hand what it's like to get caught in a raging forest fire. Lights simulate the fire. Sound effects create realistic crackling and crashing of falling trees. You hear the terror of the animals. It even smells like fire.
Instead of going to the Center, we had a leisurely dinner at the historic Irma Hotel and ambled down Sheridan Avenue, browsing through downtown Cody and its many stores and souvenir shops until dark.
The Irma Hotel—also a restaurant and saloon—is listed on the National Register of Historic Places. Built by William "Buffalo Bill" Cody in 1902, the restaurant features turn-of-the-century décor with a tin ceiling and the original cherry wood bar given to him by Queen Victoria. The bar is huge, ornately and exquisitely carved, and made from a single piece of wood. Worth seeing.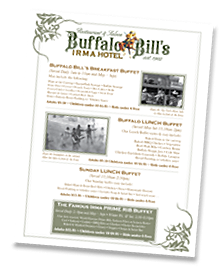 The restaurant serves traditional Wyoming fare and is famous for its prime rib, buffalo ribeye, and salmon.
The night we ate there, it was full of locals the hostess knew by name, and at least one cowboy who caught my eye. Tom and I were seated at a booth along the wall. There was a dinner buffet, but we ordered off the menu. Service was average, food OK. Prices were higher than you might find in a sports bar, but not unreasonable.
During the summer season, shootouts and historic re-enactments of famous gun battles are staged right out on the street in front of the hotel.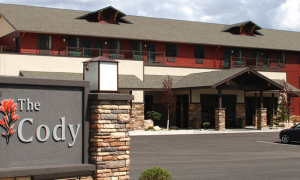 We stayed at The Cody Hotel on the western edge of town. Less than an hour's drive from Yellowstone's East Entrance, we figured the hotel would be a perfect home base for day trips to park.
A word about the Cody Hotel

The Cody Hotel is billed as luxury lodging. Pet-friendly, too. However, we were traveling with our mini Schnauzer, Mitzi, and when we checked in, the front desk clerk looked at our pup, made a sour face, and said, "She better not pee on our furniture." OK, that was rude. Room was clean and well-appointed, but a little tight around the sides of the bed, and more 3-star than luxurious. It was comfortable enough for two nights, breakfast was adequate, and the location was great—but there are other, newer hotels being built in town, and because of that desk clerk, we would think twice before staying The Cody Hotel again.
TRAVEL TIP: You need at least two, maybe three, full days to see and enjoy everything Cody has to offer. Call ahead to confirm that tourist attractions you want to see in Cody are open during the time you'll be there. This includes the entrances for Yellowstone, if that's your ultimate destination. Many of the local attractions in Cody don't open until June. We arrived two weeks too early, and most attractions were still closed for the season. On the plus side, because we had arrived early, both Cody and Yellowstone were free of the summer crowds—there was no waiting in traffic or long lines—and we could see the sights at our own pace, which was relaxing.
We missed these while in Cody, but they're worth seeing
Early the next morning we headed out to Yellowstone. At the western edge of Cody, a deep canyon formed by the Shoshone River provides the only passage through the mountains to the park's East Entrance.
It's a good thing we had an early start because things did not go quite as planned.
Unless noted otherwise, all photos were taken by Patricia Petro and Tom Schmidt. Copyright © 2011 Patricia Petro/Tom Schmidt. All rights reserved.
Some photos were found online. Links to the source sites have been provided. I encourage you to visit these sites to read what others have to say about wild, wondrous Wyoming.
City Data | Ron McEwan | Thermopolis, Wyoming | Andrew Varga | Wyoming Tourism