It doesn't take much to lure us down to Yellow Springs for an afternoon. It's only a couple of hours away from our home—an easy drive—and a great getaway.
Yellow Springs is a hidden gem that sits smack dab in the middle of Ohio's farmland.
Founded in 1825, it is home to Antioch College and, like many small college towns, has a distinct hippy vibe. The attitude is casual and laid-back. There's an air of tolerance and a thriving artistic culture. Historic buildings in quirky bright shades of blue, purple, pink, and yellow line the streets. The downtown area is filled with unique boutiques, art galleries, and charming cafés.
Beyond the shopping area, the village is quiet, quaint, and walkable with Glen Helen Nature Preserve—1,000-acres of waterfalls, limestone cliffs, nature trails, and beautiful woodlands—less than a mile away.
It's the captivating blend of art, community, and nature that defines Yellow Springs and makes it so appealing.
Escaping for the day, we skipped the dull highway and took the scenic route through Ohio's rich farmland and sleepy towns, arriving in Yellow Springs in time for lunch.
When Yellow Springs is hosting a street fair, visiting is all the sweeter.
The village is famous for its bi-annual street fairs—all-day art and food festivals in June and October where people come from all around to shop, browse vendor tents, enjoy live music and street performers, and sample an international assortment of cuisine ranging from Vietnamese shish-kabob to Mexican empanadas to Thai wraps to the all-American hamburgers, hot dogs, and French fries.
Read more
A Quick Lunch
We had lunch at Ye Olde Trail Tavern. You can't beat the atmosphere. It's Ohio's second oldest restaurant, built in 1827, with hand hewn log walls, a tin ceiling, rough plastered walls, and a cozy cabin style. The food is decidedly German with loaded bier cheese fries, sauerkraut balls, and bratwurst on the menu, but you'll find salads, hamburgers, and hot wings, too, so you can't go wrong.
Here are some items on the menu at the Olde Trail Tavern:
We dined alfresco on the patio at the side of the restaurant overlooking King's Yard and the main street.
But wait, there's more . . . Yellow Springs has a diverse culinary scene with a healthy variety of places where you can go to indulge your taste buds. From farm-to-table restaurants to cozy coffee shops, there's something to satisfy every palate.
Shop 'til you drop . . . we always do!
We spent much of the afternoon shopping. There are over 65 unique shops, boutiques, and art galleries with anything you might want—woodworks, art, ceramics, quilts, sculpture, imports, handmade jewelry, vintage clothing, herbs, teas, oil, pottery, stained glass, books books and more books. Each place offers a delightful taste of the village's diverse and artsy culture.
The 51-foot sectional mural above the storefronts is by villager Mandy Knaul, aka Mandy Sue. It features botanicals, Glen Helen scenes, and the Dark Star Books cat, Mr. Eko.
I especially love browsing through the bookstores in Yellow Springs, and
Dark Star Books
—with its over 40,000 used, rare, and collectible books—is absolutely one of my favorites. Not that I need more books, but I'm always on the look-out for early editions of Pride and Prejudice and anything on the Gilded Age. Dark Star Books has shelves full of books, comics, and sequential art. There's something for everyone. Their black cat, Mr. Eko, is featured prominently on the outside of the building and is living his best life inside.
Creative and colorful storefronts and signage are everywhere in downtown Yellow Springs.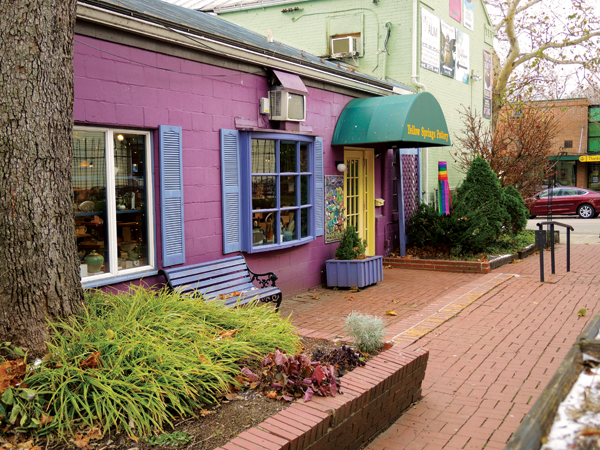 King's Yard is a three-shaded courtyard behind Ye Olde Trail Tavern where you'll find a cluster of boutiques, shops, and art galleries, including: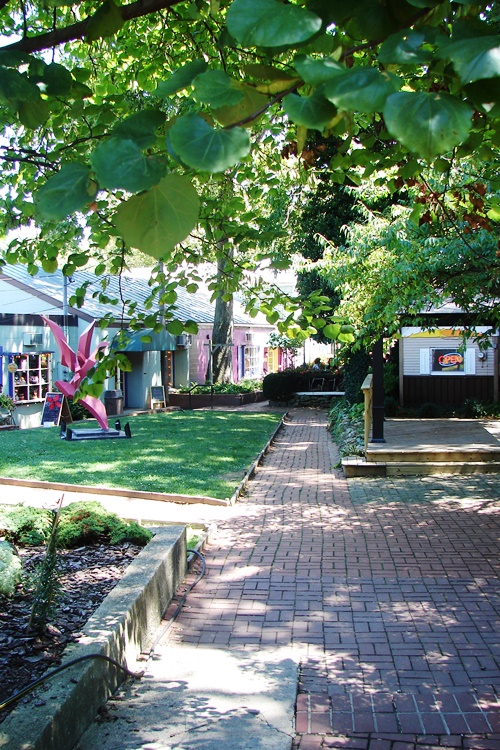 We always find amazing items in the most unexpected places.
A special find
One of the art galleries had prints by Canadian artist Rob Gonsalves. I first saw his work a couple of years ago on a visit to Yellow Springs, but couldn't remember which gallery I had seen it in. Every visit to YS had me searching. His work is part Salvador Dali, part René Magritte, and part M. C. Escher. At first glance and from afar you see one thing . . . taking a closer look, it's a whole other story. We bought a framed print of "The Sun Sets Sail." So clever, creative, beautiful. It hangs in our dining room. See more of the art in our home.
Other things to do
WALKING TOUR

Wandering through the streets is a great way to experience the vibrant charm of Yellow Springs.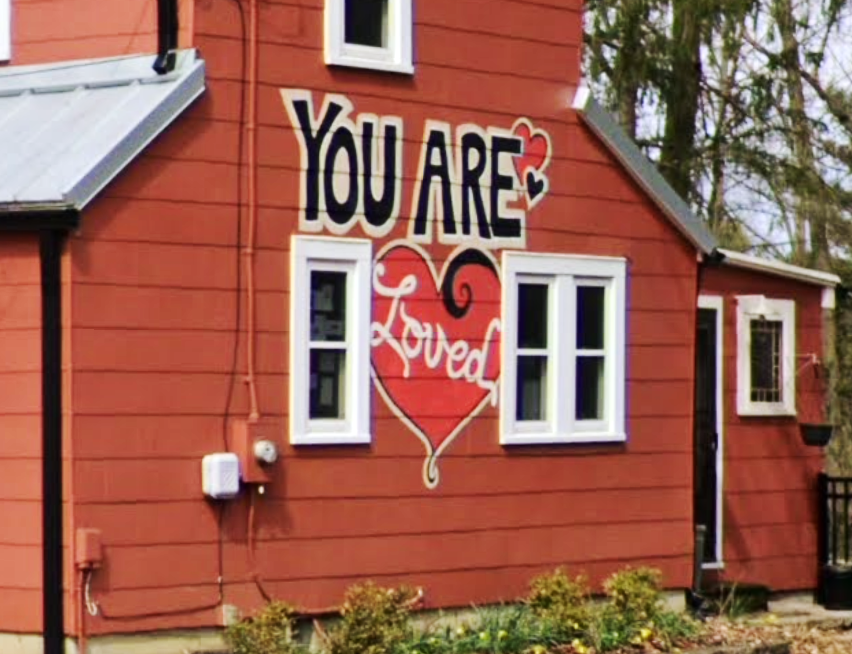 When you take a leisurely walk through town, you see things you might otherwise miss.
BIKE RIDING
A bike ride down the Little Miami Scenic Trail is exhilarating. The trail is 78 miles of paved route from Springfield to Milford. It runs alongside the eastern edge of town. We rented recumbent bikes and went about 4 miles south towards Xenia before turning back due to time constraints. You can pick the trail up at the Yellow Springs Station—a replica of the original train station built in 1880. The replica was rebuilt as close to historical dimensions as possible and has the original station's windows and ticket counter that separated the office from the freight storage.
HIKING
If you love nature as much as we do, you'll find solace in the lush surroundings of Glen Helen Nature Preserve. The Glen was donated to Antioch College in 1929 by Hugh Taylor Birch after his daughter, Helen Birch Bartlett, died. There are 1,000 acres of ancient trees and streams with 25 miles of hiking trails. Take a short walk or a long hike. The 1.2 mile Inman Trail is moderately challenging and takes about 29 minutes to complete. On it you can see quite a few sites:
Helen's Stone sits at the foot of an ancient oak tree. It has a memorial plaque on it etched with an excerpt from a poem written by Helen Birch Bartlett.
This is the inscription:
"The earth smells old and warm and mellow, and all things lie at peace. I too serenely lie here under the white-oak tree, and know the splendid flight of hours. All blue and gay, sundrenched and still."
By Helen Birch Bartlett, 1882-1925, in memory of whom this glen was presented to Antioch College in 1929 by her father, Hugh Taylor Birch, class of 1869.
Adjacent to Glen Helen is John Bryan State Park—a spectacular 755-acre wooded park that encompasses the narrow and rugged gorge of the Little Miami River. Many consider it to be Western Ohio's most beautiful state park. The park offers overnight camping as well as fishing, boating, canoeing, bow hunting, rock climbing and rappelling, and picnicking. There are 7.5 miles of mountain bike trails and some of the most scenic foot trails in the region.
Clifton Gorge State Nature Preserve is also nearby and perfect for a quick adventure. This 268 acre park has hiking trails through ancient rock formations, scenic waterfalls, and the most spectacular views of the Little Miami River.
Where to stay
To take in everything Yellow Springs and its surrounding area has to offer, you might want to stay for a couple of days. These options are right in town, providing maximum convenience.
Jailhouse Suites offers four unique private apartments available for short-term and over-night stays. The historic building, built in 1878, was used as the town jail until 1929. All that remain of the two jail cells, that were located at the rear of the first floor, are some of the barred windows.
Built in 1843, Three Ten Bed and Breakfast is a charming two-story brick home located in the heart of the Yellow Springs Historic District. You can reserve guest rooms or book the entire house and enjoy continental breakfast and modern amenities for a relaxing stay.
Whether you're seeking artistic inspiration, a vibrant cultural experience, reconnection with nature, or a peaceful retreat, Yellow Springs always delivers on its promise.
Just north of downtown . . . a field of a gazillion sunflowers.
Our visit to Yellow Springs was relaxing, invigorating, inspiring.
But no trip to Yellow Springs is complete without a stop at Young's Jersey Dairy. Established in 1869 as a farm, it has grown through the years into a popular Yellow Springs attraction. With farmstead tours, a farm animal petting area, miniature golf, batting cages, a driving range, kiddie corral, and more, Young's Jersey Dairy has become a playground paradise for kids and kids at heart. In the Dairy Store you can get sandwiches, salads, sides, and ice cream. Their homemade ice cream is to-die-for. It's made from a 15% butterfat mix of milk, cream, and sugar. Very rich, very creamy. It comes in every imaginable flavor, including Cow Patty—a double dark chocolate ice cream loaded with broken cookies, bits of toffee, and chocolate chips. We had a cheeseburger, buttermilk chicken sandwich, deep fried cheddar cheese curds, and we both had one scoop each of strawberry and butter pecan ice cream in chocolate dipped nut cones.
Tomorrow we diet.
Any time is a good time to visit, but if you can get there for the Yellow Springs Street Fair, GO!
Unless noted otherwise, photos were taken by Patricia Petro and Tom Schmidt.
Copyright © 2023 Patricia Petro/Tom Schmidt. All rights reserved.