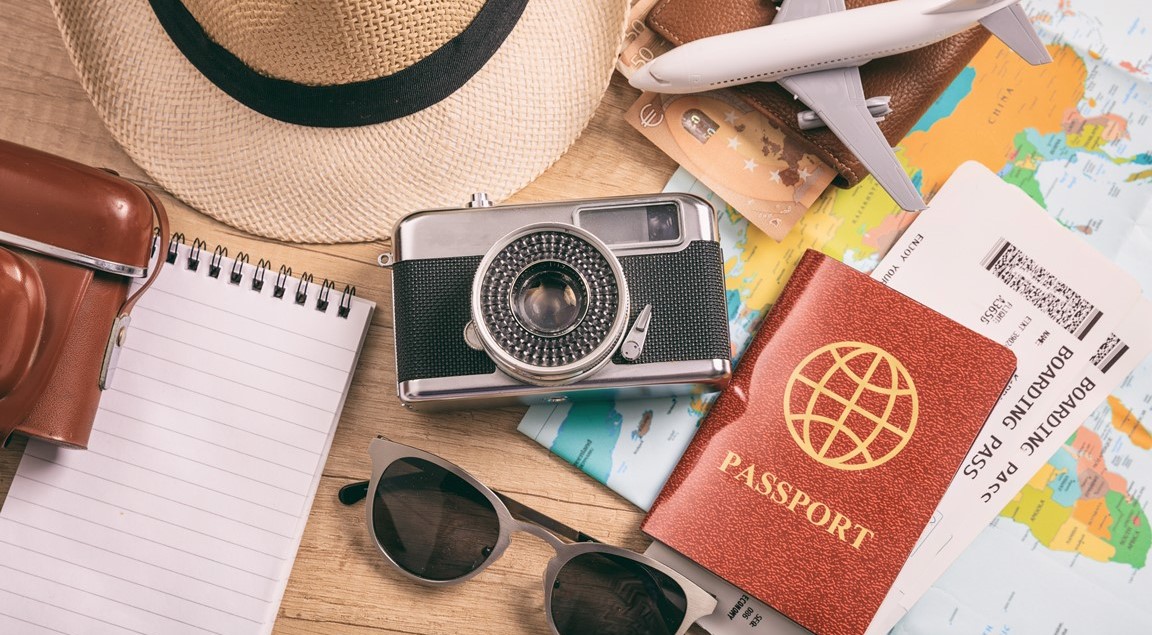 Many of us have experienced the misery of hauling around too much luggage on a trip.
I know I have.
I once trekked through Europe—from London to Amsterdam to Paris to Barcelona—with the heaviest suitcase you can imagine, an overnight bag in the other hand, and a large purse flung over my shoulder with more stuff in it than I would ever need. Imagine, too, what it was like waiting to check those bags at each new place, and waiting to claim them at the next. Then lugging them through airports, on trains, in taxis, down streets, to-and-from hotels, up-and-down escalators and staircases, and in crowded elevators in every city we visited.
The trip itself was a success. I had managed to see just about everything I wanted to see by following a detailed itinerary and cramming in as much as I could into each day. In hindsight, it was too much.
I was so tired by the time I got home, I felt like I needed a vacation.
He who would travel happily must travel light.
–Antoine de Saint-Exupery
For me, a trip is all about the destination—what you plan to do and see. Clothing is necessary, but bringing more than you need is not.
A guide for traveling lighter
Pack as little as possible. You don't need to bring everything you own. Nobody cares what you're wearing. If you wear the same thing two days in a row, no one will notice.
Pack only what you can carry onto the flight.
Use a carry-on suitcase or travel backpack for clothing, toiletries, and other items you won't need until you reach your destination. This will eliminate the need to check the bag or deal with baggage claims, delays, or lost luggage. It also forces you to pack less by limiting what you can take. Airlines have carry-on size and weight restrictions for both domestic and international flights. Check to see what's allowed.
Wear an anti-theft crossbody travel bag on the flight for quick-and-easy access to boarding passes, passport, cash, reading glasses, and anything else you might readily need. Then use the bag while sightseeing to carry your phone, some cash, credit cards, itinerary and guide maps, sunglasses, and water. Leave important items you might have had in it during the flight—especially your passport and extra cash—in the hotel room/safe. Pickpockets are a real threat and nuisance overseas. Travelon has a wide selection of crossbody bags on Amazon.
Pack for your destination. Check the weather and what the dress codes are in the country you're visiting. Some dress codes are strict; others are rather unusual. Plan accordingly.
Here's a list of items to pack. Items you won't need until you get to your destination go into your carry-on. Items you want to keep handy so you don't have to dig through luggage to get to them go in your crossbody bag. You decide. Remember, whatever you wear on the flight is going with you and won't need to be packed. Think heavy shoes, bulky jackets, hats, and other items that would take up a lot of space in the carry-on.
Lightweight, wrinkle-resistant clothing. Choose items in complimentary colors that are interchangeable, can do double-duty, and be worn dressed up or down or layered for changes in the weather. Think mix-and-match. Reversible travel clothing is especially versatile, giving you multiple looks with just one item. A few key pieces that can serve more than one purpose are all you really need.
Good walking shoes are a must . . . and, depending on your destination, a comfortable pair of flats or sandals. You can leave the heels at home unless you are comfortable walking in them and plan to dress up for dinner. If you're going to the mountains, you'll need hiking boots. Wear your heaviest shoes on the flight to eliminate the need to pack them.
Light jacket or sweater, especially if you're heading to a cool climate. Wear it on the flight.
Beautiful scarf to dress up your outfits. It can also act as a head covering, if you need one . . . or as a shawl to drape around your shoulders if (1) you plan to visit religious sites or (2) it cools down at night.
Bathing suit, if you're planning to swim . . . a cover-up, too, just in case there's a dress code.
Undergarments, socks, and nightwear. Bring what you think you'll need for the length of time you'll be traveling. Keep in mind, it's easy enough to wash items daily in the hotel room sink and hang to dry overnight.
One pair of earrings and a watch, if you wear one, is plenty. Jewelry makes a great small souvenir, and you can shop for it while sightseeing.
Toiletries and makeup in Ziplock bags. Pack the bare minimum, just what you absolutely need. Ziplock bags take up less space than fancy bags with pockets. Get travel-sized toiletries. You can always buy more at your destination.
Baby wipes.
Medications.
Laptop, unless you don't need it. Tom and I do. We take a lot of photos and download them every night.
Canvas tote bag for shopping and small souvenirs.
Cellphone, charger, and earbuds. The phone can double as a camera. Also, if you download audiobooks to the phone ahead of time, you can play them in airplane mode during the flight. To make phone calls, contact your carrier regarding an international data plan.
Passport and visa, if your destination requires one.
Boarding passes, hotel confirmations, itinerary, and guide maps.
Eyeglasses.
Sunglasses and sunscreen.
Hat, if desired.
Small folding travel umbrella, in case it rains.
Bring a small amount of foreign currency to cover incidental expenses upon arrival, then convert the rest of the cash you're taking in your destination country where the rates are usually more favorable.
Credit cards.
Once you arrive, make time to relax. Unless there's some historical site you REALLY want to see—like the Colosseum in Rome or Westminster Abbey in London—stroll around the city casually . . . explore the historical district . . . get lost . . . find a good bistro, coffee shop, or a sidewalk café where you can sit and watch people . . . enjoy the food . . . take in the culture.
Be fully present. Live in the moment. Let go of the itinerary, and let the magic happen.