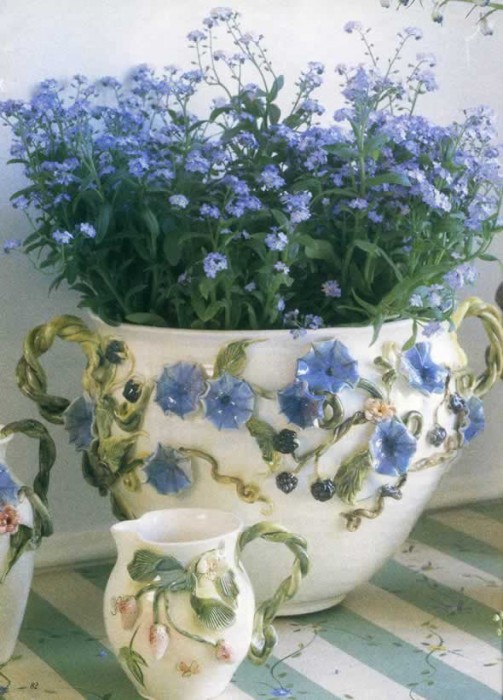 Who doesn't love the color blue?
It is the clear, powdery sky on a perfect summer's day. It is the deep ocean crashing against the shore. It is the colorful surprise in a field of green.
Azure. Baby blue. Cerulean. Cobalt. Cornflower. Corporate. Cyan. Indigo. Midnight. Navy. Prussian. Robin's egg. Royal. Sapphire. Sky. Slate. Steel. Blue comes in so many different wonderful shades, there's something for everyone.
Soft, cool, calming . . . blue. It soothes and heals . . . and can lower the pulse rate and body temperature. It is the perfect color to use for a relaxing retreat.
Blue color is everlastingly appointed by the Deity to be a source of delight. —John Ruskin
Decorating with the color blue
An Awesome Change
I love a great before-and-after, and this is one of my favorites. No major changes here—everything done was cosmetic. Cobalt blue-and-white paper on the walls. A new mirror. A new crisp white window shade. A new rug, wastebasket, navy towels, and two pots of wheat grass for contrast. And, for the shower curtain and stool, a fabric in the same pattern as the wallpaper. The result is stunning! (Photos: House Beautiful)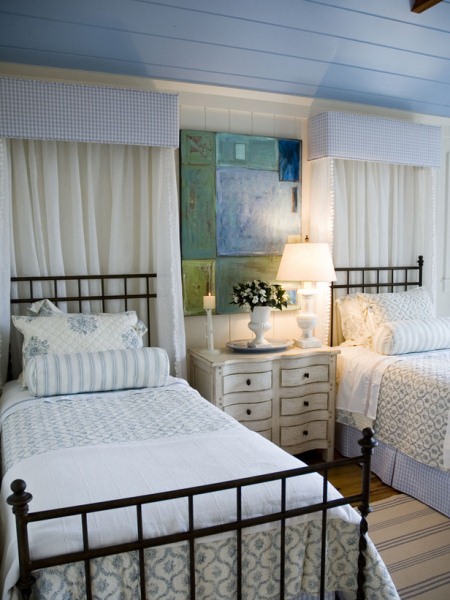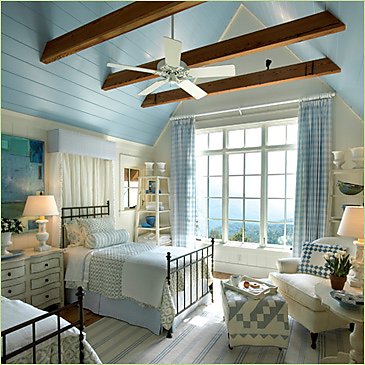 [left and above] This bedroom is all dressed up in coordinating patterns, and an abstract painting picks up different shades of blue—but the real story here is the paneled, painted ceiling that stretches to the sky . . . and that view! I want one just like it! (Photo: HGTV)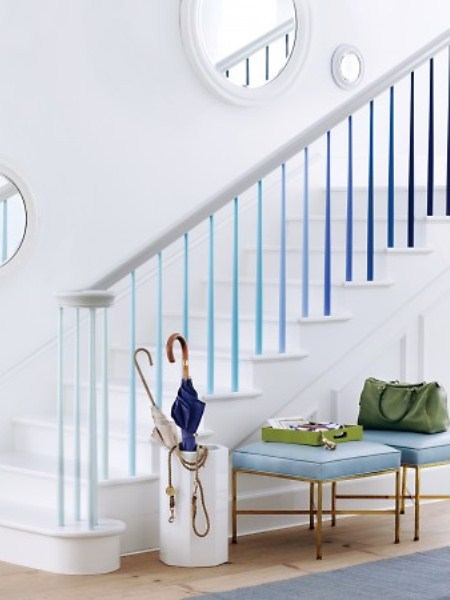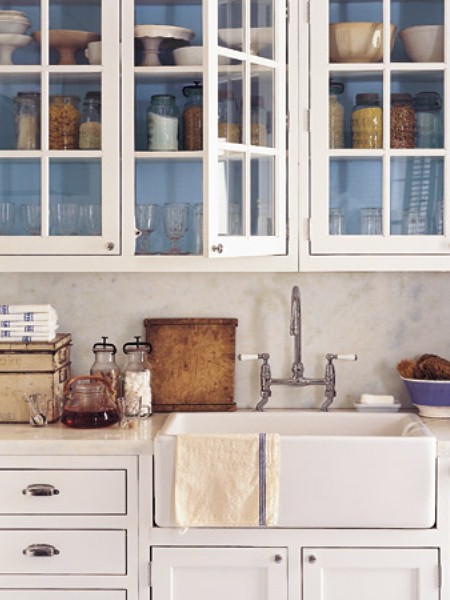 [above left to right] 1. It's easy to create this striking stairway effect: Using little test pots of paint, paint the stair balusters in twos, pairing them on adjacent steps—one on lower step/one on next step up make a pair—
and graduate the tone from light to dark. 2. Painting the interior of kitchen cabinets (or bookcases)
always adds color, depth, and interest. (Photos:
Martha Stewart
)