Ever since I read Dorothy Rodgers' book, The House in My Head, I envisioned having a wall-to-wall, floor-to-ceiling bookcase like the one she had in her living room.
Some on the path to simplicity would argue that having so many books is clutter. I respectfully disagree.
I understand books need to be dusted, arranged, organized, and catalogued, and I know it takes precious time and energy to do it. This might not necessarily mesh with a simple lifestyle, but I don't mind. For me, it's like having a garden that needs tending.
You can live a simple life and still be surrounded by the things you love that give you pleasure.
My books are important to me. I have some first editions, several different copies of Pride and Prejudice, anything I can get my hands on by or about Jane Austen, dozens of personal favorites by friends and favorite authors, and a slew of other books I treasure for various reasons. I have fiction, non-fiction, bios, history books, books on poetry and writing, self-help books, New Age books, a complete set of The Encyclopedia Americana (circa 1950s which, BTW, is the best for bios bar none), children's books, cookbooks, travel books, books on gardening, fairies, decorating, art, web design, dollhouses, and more.
O my darling books . . . how dear to me are they all! For have I not chosen them one by one, gathered them in with the sweat of my brow? I do love you all! It seems as if, by long and sweet companionship, you had become part of myself.
―Antoine Issac,
Baron Silvestre de Sacy
My books are a snapshot of who I am and are as diversified as the things that interest me.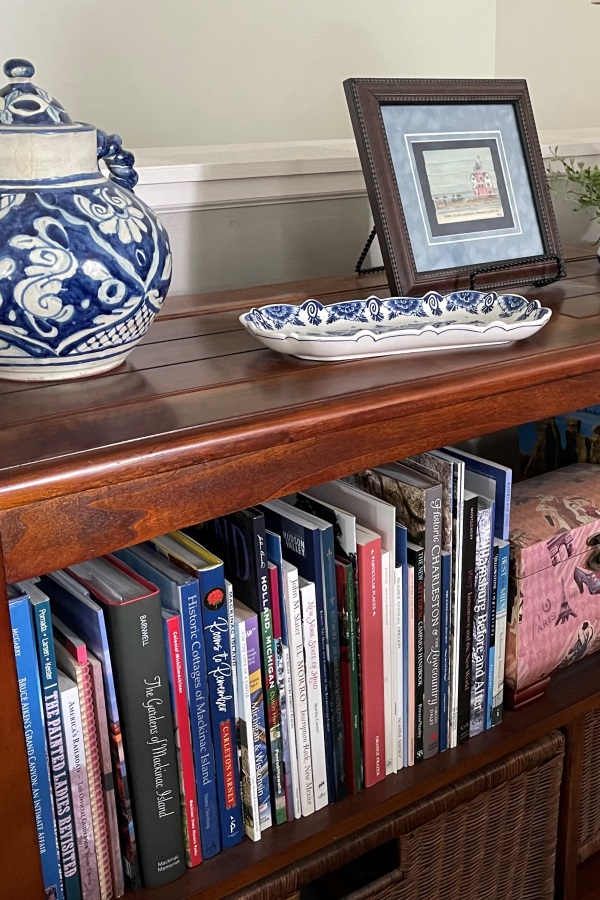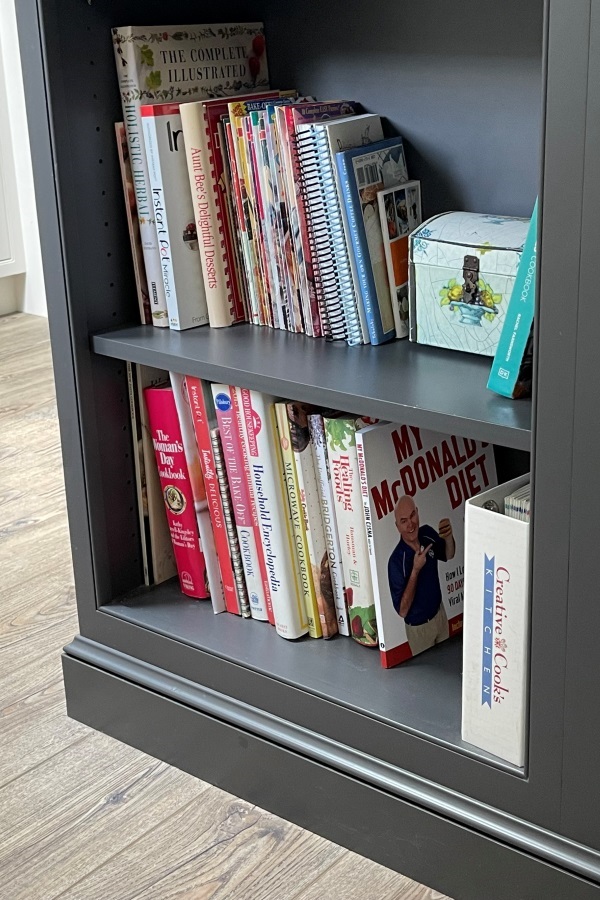 Books are scattered in various locations around our house. Most are on the industrial shelving in my home office, organized by genre, then alphabetically. Others are on shelves in the living room (travel), kitchen (cookbooks), and guest bedroom (children's books, fairy books, various others) . . . or stacked on tables and cabinets in random displays.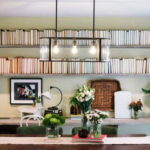 It annoys me when people put their books on shelves backwards simply because they're trying to fill the shelves and keep the décor in a room neutral.
This trend fails the
1-2-3
test for clutter: beautiful, useful, meaningful? No. No. No. There's nothing meaningful about it. The books are useless. They're not meant to be read if you can't see the titles. It's just a cheap way to fill shelves and a huge dust collector . . . and it looks cheap. Everyone knows books are a dime-a-dozen at garage sales and in library sale bins. It's awesome when you can upscale your décor at bargain prices. This won't do it. HGTV started the trend, but they had a good reason.
Read more
My brother, too, collects books. He has a massive collection that fills a wall of shelving in his studio, mostly art and large coffee-table types that don't pack well. He's thinking about getting rid of them all so he can get down to the bare essentials, be able to pack what he needs, and move easily without the burden of books and other material possessions. The last time we visited, it was all I could do to stop myself from offering to take the lovely books off his hands.
At one time I hoarded books. I would buy any classic I found at a flea market, antique shop, or garage sale and every #1 bestseller on the New York Times bestseller list. I didn't necessarily want to read the book; I just wanted it. If I saw an over-sized volume with beautiful photos, I would consider buying it and, oftentimes, did. It was a compulsive thing that followed me for many years until I had hundreds of books in just about every size and genre. It was a lot of books that meant a lot of heavy boxes to move every time the time came to pick up and go.
When Tom and I bought our house, I culled my collection, keeping only personal favorites and those books I treasured most.
These days when choosing books, I'm more selective. Books written by family or friends or signed by the author have a special place in my heart as do travel books from the places we visit that we bring home with us as souvenirs. I will buy a bestseller every now and then, if I am especially impressed, but most likely it will be in audio, which is a whole other collection that is growing.
Every now and then I still think about having a living room with a wall of books much like the one Dorothy Rodgers had. Her style represents the epitome of gracious living . . . a comfortable home, warm and inviting, filled with the things you love.