When you can take a small, unused garage and make it over into a functioning home, magic happens. Such is the case with the little house Seattle artist, designer, and welder Michelle de la Vega built.
With a lot of vision, creativity, and ingenious design, Michelle took a tiny old detached garage and transformed it into a mini version of her dream home.
Michelle had bought the garage (and house in front of it) with money from a divorce settlement. "At that time I was coming out of the ashes," she said, "and knew I needed to come up with a good survival strategy for starting over as a single person." To generate a steady income, she decided to rent out the main house and turn the garage into her home.
The new mini house incorporates much of the original garage's structure, but (1) the framing was raised four feet to accommodate a sleeping loft and (2) square footage was added to the original footprint for a bathroom.
in her own words

"The [new] garage and the elements in it are all defunct, unwanted things that were reclaimed and given new life." —Michelle de la Vega
The result is a 250-square-foot living space with sleeping loft that has personality, pizzazz, and clever re-purposing of materials throughout.
Michelle's mini house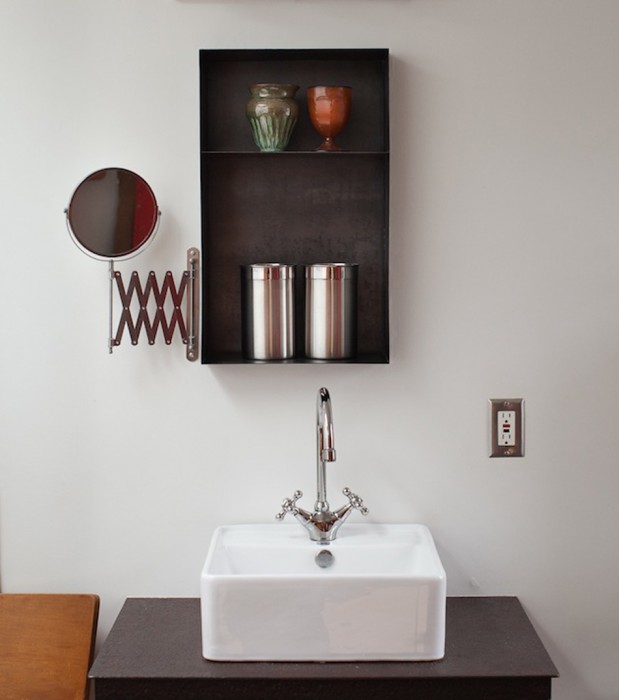 The bathroom's simplicity is calming, earthy, and zen-like. Large tiles in dark earth tone are used on the floor and walls surrounding the tub area. A modern white sink sits atop a simple table. (Photos: Ira Lippke NY Times)
Acting as general contractor, Michelle had plenty of places to scour around for appropriate materials for her redo. She lives in Top Hat, a neighborhood south of Seattle, that gets its whimsical name from the sculpture of a hat perched atop a nearby transmission shop. Top Hat is near the area's steel mills, shipyards, and Sea-Tax Airport and offers access to a number of salvage yards.
The renovation took nine months and $32,000 to complete. Since then, Michelle married Robin Cady, a rockabilly acoustic bassist and contractor she met while on a trip to Home Depot in 2007. They moved into the main house, and she's kept the garage as her "personal sanctuary."