Nestled among the trees on ten very private acres in Leiper's Fork is a sweet little rustic retreat.
Everyone should visit Nashville at least once in their lifetime. Nashville is an American icon; it's the "home of country music" and a major player in the recording industry. All of the Big Four record labels—Universal, Sony, EMI Group, and Warner Music—as well as a myriad of independent labels have offices there. It's also home of the Grand Ole Opry, Country Music Hall of Fame and Museum, historic Ryman Auditorium, and Music Row. Downtown, especially in the area encompassing Lower Broadway, Second Avenue, and Printer's Alley, which is often referred to as the District, there are numerous music clubs and honky-tonk bars, restaurants and grills, and shops galore. Nashville is a vibrant city and the state capitol of Tennessee with a diverse assortment of dining, entertainment, cultural, and architectural attractions that appeal to just about anyone.
Thirty minutes south of Nashville is a whole other world—Leiper's Fork. Leiper's Fork is an historic village just off the scenic Natchez Trace Parkway in rural Williamson County in an area many recording artists and entertainment professionals call home. Its close proximity to Nashville makes it a perfect commute as well as getaway for those looking for peace and quiet away from the hustle and bustle of the city.
Getting away from it all
Details . . . Details . . . Details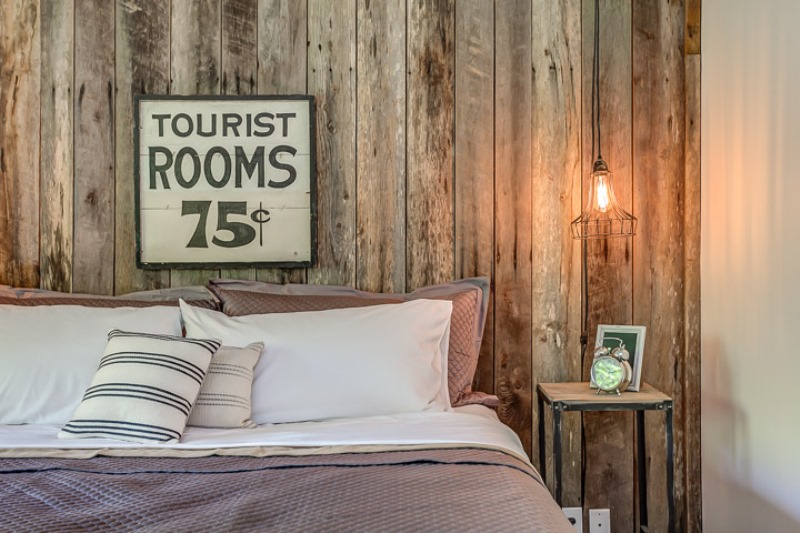 Distressed wood planks are offset by neatly pressed linen on the bed. Simple industrial lighting hangs above the simple end tables. A tourist sign adds a touch of whimsy.
In the bathroom, white painted planks cover the walls and ceiling. The chandelier, with it's dripping crystals, mimics the rain-style shower head. More distressed wood, this time used on a storage bench, fits right in with the house's rustic feel.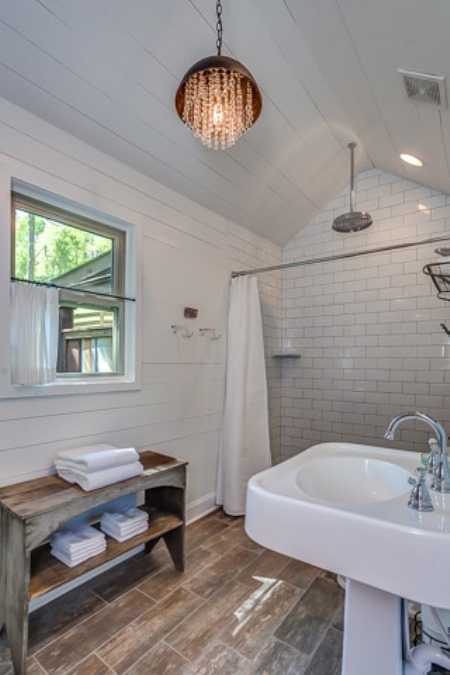 Around the other side of the house is a rustic outdoor shower for a uniquely special experience.
For any who've never experienced an outdoor shower . . . do, do, do. There's something uniquely special about showering outside in the midst of nature, the sounds, and fresh air.
—Sarah Umstead, House + Sanctuary
At one time the house was being offered as a rental through House + Sanctuary. You can try contacting them to see if it's still available.
Similar posts you might like