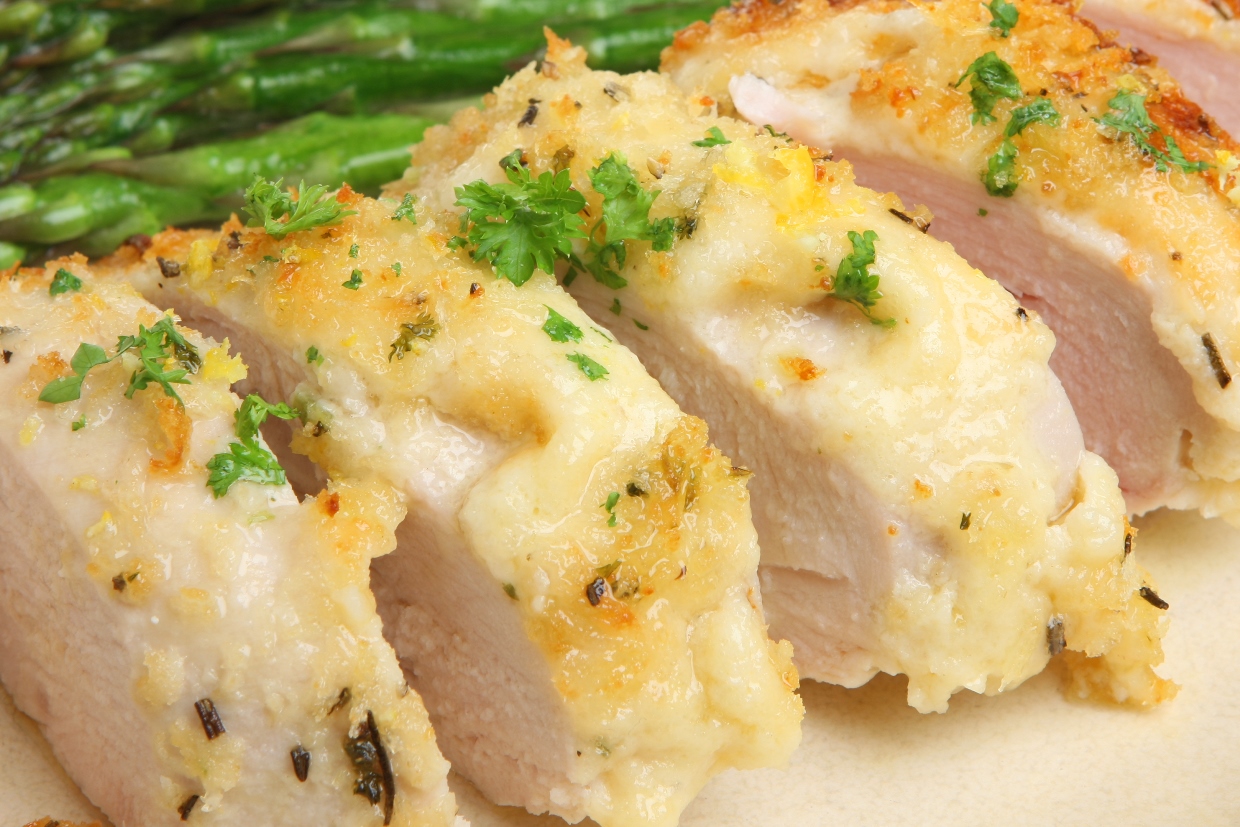 Moist and delicious, it's the Miracle Whip that gives this tasty chicken its extra special zip.
Chicken Parmezip for 2
Ingredients
4

tablespoons

Miracle Whip salad dressing

2

boneless, skinless chicken breasts

½

cup

grated Parmesan cheese

¼

cup

Italian breadcrumbs

Salt and pepper, to taste

Parmesan cheese

Chopped fresh parsley, for garnish
Instructions
Brush top side of each chicken breast with 1 tablespoon Miracle Whip.

In a shallow pan, combine Parmesan cheese, Italian breadcrumbs, salt, and pepper.

Dip top side of chicken in dry mixture.

Brush other side of chicken with 1 tablespoon Miracle Whip and dip in dry mixture.

Place completely-coated chicken on boiler pan. Spoon any remaining dry mixture over top of chicken.

Bake 40 minutes or longer, until tender.
Notes
I slather the chicken generously with the Miracle Whip and cut larger-sized breasts in half .
You may need more (or less) dry ingredients, depending on the size of the chicken breasts you use.
While it's baking, I do not turn the chicken.
Again, depending on the size of the chicken breasts, it generally takes 40 minutes for the chicken to be done. I check every 20 minutes or so using a meat thermometer. When the internal temp is more than 160 degrees, I remove the chicken from the oven and let it stand for 5-10 minutes before serving.
Garnish with parsley . . . or sprinkle with grated or shredded Parmesan cheese, as desired.
Serving size: 1 breast ♥ Calories: 313
NUTRITION
Calories:
313
kcal
|
Carbohydrates:
11.9
g
|
Protein:
32
g
|
Fat:
15.2
g
|
Saturated Fat:
6.2
g
|
Cholesterol:
87
mg
|
Sodium:
473
mg
|
Potassium:
215
mg
|
Fiber:
0.7
g
|
Sugar:
1.4
g
|
Calcium:
289
mg
|
Iron:
2
mg
Recipe Disclosure