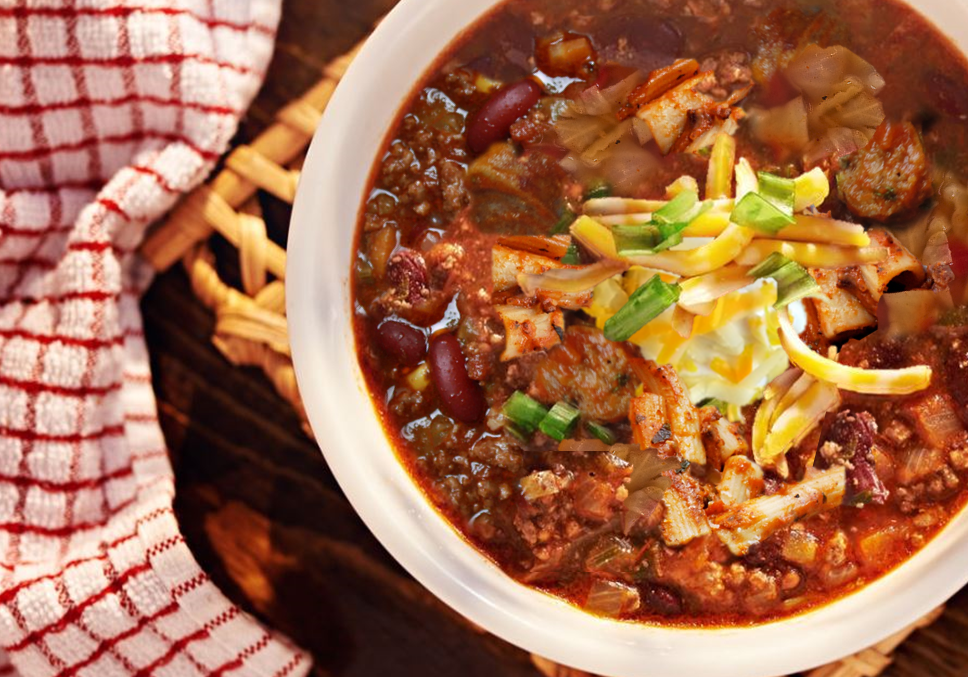 There's no denying—chili is a perfect comfort food. This chunky chili is a cinch to make and hearty enough for even the most robust appetite.
Chunky Rigatoni Chili
Ingredients
1

lb

mild Italian sausage

1½

cups

cabbage heart, chunked

6

cups

water

1

(16 oz) box

rigatoni, uncooked

2

(32 oz) jars

spaghetti sauce

1

(16 oz) can

kidney beans

1

small onion, diced

3

slices

bacon

Hot sauce, to taste

⅔

cup

shredded Cheddar cheese

½

cup

green onion, chopped
Instructions
Boil sausage with cabbage in water until sausage is cooked thoroughly, about 1 hour; drain.

Meanwhile, prepare rigatoni per box directions; drain.

Heat spaghetti sauce, beans, and onion in a saucepan, allowing to simmer over low heat.

Pan fry bacon until slightly cooked; remove from heat, cut into 1-inch pieces and set aside.

When sausage is done, cut into small chunks.

Add chunked sausage, cabbage, rigatoni, and bacon pieces to the sauce. Add hot sauce, with discretion, to taste.

Top with shredded Cheddar, chopped green onion, and a dollop of sour cream.
Notes
This is pure party food, meant to feed a lot of people . . . or less if you serve larger portions.
You can use any sausage you prefer, but the mild Italian sausage tastes great with the cabbage and gives the dish just the right amount of bite without being overpowering.
Boil the sausage over a medium-high heat or less. Higher heat will cook it too quickly and cause the skin to burst before the inside meat is cooked thoroughly. Slower is better. Using a low heat, you can leave the sausage and cabbage on to cook unattended while you prepare the rigatoni and sauce. It will take an hour or so before the sausage is done; but slow cooking will produce a moist, more-flavorful meat. Cooking the cabbage with the sausage releases some of the meat's flavors into the cabbage.
If the sausage I use has a skin or casing, I remove it after the sausage has been cooked, before I start slicing. It comes off easy enough if you score it first and then peel. But beware, there is hot juice under the skin, so proceed with caution.
Be careful with the hot sauce. You want your chili to have bite, but don't want to knock the socks off those people who don't like their chili too spicy. It's better to keep things mild and offer extra hot pepper sauce on the side for those who want more.
Make this dish the day before and refrigerate overnight, covered tightly, to let the flavors blend nicely. Then, reheat on the stove top until heated thoroughly.
Serving size: 1 cup ♥ 446 calories
NUTRITION
Calories:
446
kcal
|
Carbohydrates:
64.6
g
|
Protein:
15.3
g
|
Fat:
13.9
g
|
Saturated Fat:
4.9
g
|
Cholesterol:
26
mg
|
Sodium:
1837
mg
|
Potassium:
206
mg
|
Fiber:
11.9
g
|
Sugar:
33.7
g
|
Calcium:
115
mg
|
Iron:
3
mg
Recipe Disclosure