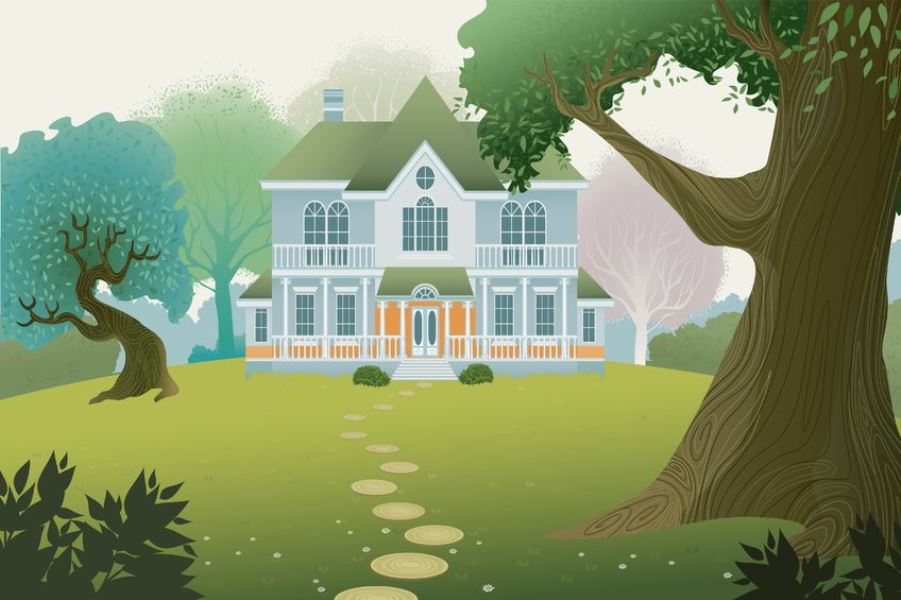 Hearing that an empty nester is upsizing—moving to a much larger home—might make you wonder . . . Why? It made me wonder.
Let's just say I have a friend. She and her husband have worked hard all of their lives, scrimped and saved, and now that their children are grown and gone, they are planning to sell everything and build a brand new five-bedroom Victorian on a dozen or so acres somewhere in the middle of nowhere with a great big kitchen, cherry cabinets, and a kazillion copper pans hanging over the kitchen's massive center island.
Bedrooms will be large, each having it's own full bath—comfort for the kids when they come to visit. The dining room will seat 20—he more, the merrier. My friend plans to have dozens of fruit trees, a deluxe vegetable garden, and a huge windowed solarium just off the kitchen where she'll grow flowers year round and let her caged birds fly free.
Sounds lovely, sounds like a lot of work. I can't help but wonder . . . Why? Why big? Why would she want so much space now that her nest is empty?
With girlish excitement, she told me how she goes on eBay every day to buy copper pans. She has big, small, medium, flat, you name it, stock pots, fry pans, boiler plates, and sauté . . . at least three sets, I think she said. All are boxed in her attic waiting for her new dream kitchen. She's proud as a peacock, and I'm wondering . . . Why? Why does she need three copper sauté pans? And why would she buy expensive copper pots and pans that will need to be polished regularly?
I asked, "How in the world are you going to manage?"
The cost of upsizing
I wasn't talking about the initial cost of building the house. All things considered, if you have the cash, building the house is the easy part. But it takes a lot of money to maintain a big house. You have monthly bills (mortgage, utilities, insurance, taxes). Repairs and maintenance. Heating a solarium during an Ohio winter won't be cheap. And, let's not forget, the extra cost for cases of copper polish and bird seed. It all adds up to quite a bit of cash that eats into a retirement fund quicker than you think.
Did she honestly want to work the rest of her life? Who did she think was going to clean that big house? Weed that garden? Prune the trees? Pick the fruit? Mow the acres of grass? Polish the copper? Wash the solarium windows? Clean up the crap from all those loose birds flying around?
OK, so maybe her husband would help. He's a great guy. They've been married for over 30 years, and I don't remember him ever giving her even a minute of grief. He's changed diapers, cooked, cleaned, did laundry and whatever he could whenever she wanted. But geez . . . they deserve a break. Aren't they a little old to be upsizing?
The answer is no.
It's never too late to realize your dreams
Remember to dream and then act. Live agelessly, not aged.
—Pat Montandon
Having an empty nest does not necessarily mean you must automatically downsize, reduce your living space, and live on a smaller scale. Nor does it mean that you have to give up on dreams and desires, toss them out, and start over with less. Simplifying is about doing what you love and surrounding yourself with those people and things that enhance the quality of your life and are essential to your happiness.
These things my friend wants are important to her. They have been on her Wish List since she was first married. She and her husband are finally at a point in their lives where they can make that dream come true. It might be a little larger, a little more expensive to maintain, a little more work than I would want; but it's their vision of a happy, rewarding life, and they're entitled to pursue it.
There is a youthful glow that comes with hope. My friend radiates happiness, and her joy and excitement are highly contagious.
Even though I love the simplicity that comes with a more minimalistic life, it got me thinking. I wouldn't mind having a sweet little screened-in porch or sun room off my kitchen. A nice, quiet place to sit, read, and watch the ducks play in the pond. Flowers, yes, and hanging ferns, but no copper anything, and I'll pass on the birds.